Professor teaches adult dance classes
Tucked away to the side of the Communications and Music Complex, preparatory arts professor Alyssa Stover teaches a ballet class for adults.
Stover, a Texas native, has been a professor at Loyola since the fall semester of 2015. She began as a ballet teacher for Loyola's Preparatory Arts Program working with children ages seven to 12.
Stover has taught jazz and ballet classes for the theatre arts and dance department, became the dance coordinator for the Preparatory Arts Program and even teaches ballet for the New Orleans Academy of Dance.
However, the presence of ballet at Loyola has slowly faded away. Loyola cut the ballet minor in 2016, taking away a program that had been in existence for nearly 50 years.
Without the ballet program, Stover is more than happy to fill the void with her adult ballet classes.
"I wanted to make sure there were still opportunities for adult ballet students to take classes at Loyola," Stover said.
The class is a 10-week course on Thursdays that began in mid-February and ends in early May. It is open to the entire Loyola community and welcomes students of any experience level. The entire course costs $150 and allows for a $17 drop in rate for those who can't fully commit.
Stover believes the class is beneficial due to its openness to all.
"We still have university dance classes, but there are a lot of students who can't take them because it doesn't fit their schedules and, of course, university classes aren't open to the community," Stover said.
These classes, according to Stover, also provide a stress-free environment for participants.
"There's no pressure of grades or performances to prepare for," Stover said. "It's just time for the students to come dance, get a good workout and have fun."
One of Stover's students is Anne Allen, a special education teacher for Crescent City Schools. She has a few years of ballet experience but considers herself a beginner at adult ballet. Allen first found out about the class due to her friendship with Stover.
"She advertised the class as one for beginners and has been very welcoming and kind to those of us with less experience," Allen said.
Stover's class has about seven to eight students mixing Loyola alumni, current students and members of the community who range in experience levels from beginner to advanced.
"I know that ballet can seem a little intimidating because there are so many ideas around it that just aren't true, like you 'have to be' skinny or super flexible just to take a class," Stover said. "My hope is that the class provides a welcoming atmosphere for anyone who wants to take a good, challenging class."
Along with Stover's class, an adult tap class is taught by Renee Gaubert through the Preparatory Arts Program on Saturdays.
About the Writer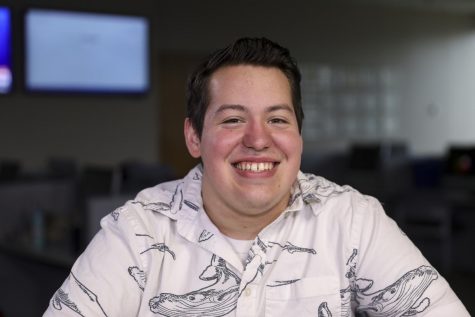 Cody Downey, Reviews Editor
Cody Downey is a mass communication senior from New Orleans, Louisiana. He is currently serving as the Reviews Editor. In previous years, Cody held positions...