Letter: Happy Hispanic Heritage Month!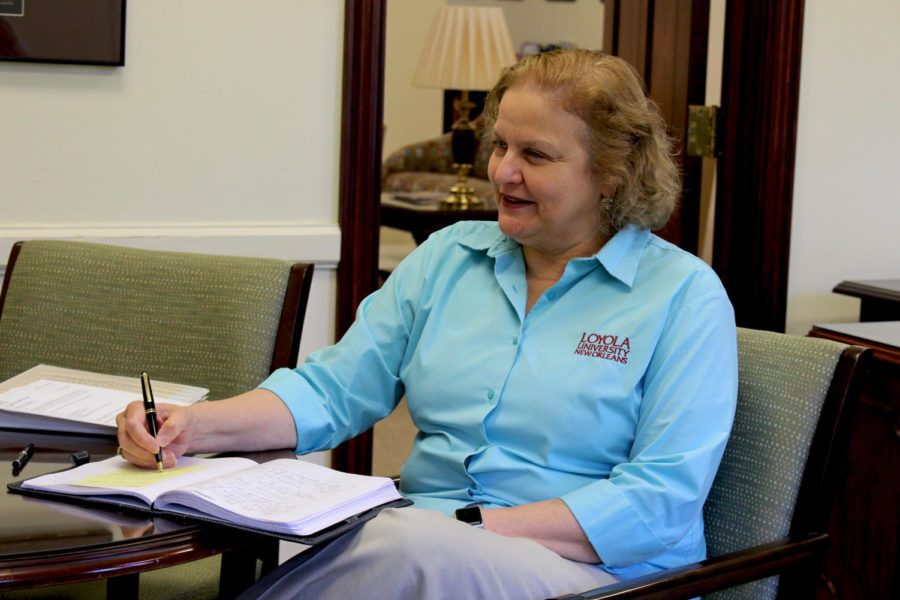 Maria Calzada
September 9, 2018
As we prepare to celebrate Hispanic Heritage Month (September 15-October 15), we recognize the achievements and contributions of American citizens with ancestry from Spain, Central and South America, Mexico and the Caribbean. As a group, Hispanics are the second-largest ethnic population in the United States (the largest being non-Hispanic whites). Our people are diverse and creative. We are hard-working and fun-loving. Our music, foods and cultures are legendary. We are family-oriented, God-loving, open and friendly. Like our brothers and sisters in other ethnic and racial groups in the United States, we deserve respect and admiration.
Loyola Hispanic faculty and staff are represented in just about every college and functional unit at the university, from the Office of the Provost, Admissions, the College of Arts and Sciences and College of Business Dean's offices, to faculty in Physics, Criminology and Justice, Languages and Cultures, Mathematics, and the Colleges of Law, Music and Fine Arts, and Business (radically, I am including people from Brazilian ancestry). Please forgive me if I missed your program here. I hope you are not invisible to me, as some of my fellow Latinx feel they are to others. Let me know who you are when you see me on campus.
Our Hispanic students, who make up roughly 16% of the undergraduate population at Loyola, are represented in just about every program at the university. We are honored to have them here. They have achieved innumerable accolades and honors. When they graduate, they go on to make a significant difference in their families, communities and countries. They make us all proud.
In the 300-year anniversary of the founding of New Orleans, I want to remind everyone that Hispanics were part of this great city from the beginning. People from Spain, Cuba, Hispaniola, Mexico and Central America lived, worked in and built our city, which was under Spain's jurisdiction for a few decades. For that reason, the French Quarter resembles the type of Spanish central neighborhood that we see in Spain, Puerto Rico, the Dominican Republic and even in "el Casco Viejo" in my own country of Panama. Hispanics built the city of New Orleans after fires destroyed it in the 1700s and again after Hurricane Katrina ravaged it in 2005. Our New Orleans culture continues to be enriched by the contributions of Hispanics to this day.
As we celebrate Hispanic Heritage month, I want to recognize and thank Pan-American Life Insurance Group (PALIG) for their generous donations, which made possible the brand-new Pan-American Life Student Success Center on the second floor of Monroe Library and a new scholarship for a first-generation Louisiana student of Hispanic descent. PALIG has a history that parallels that of Loyola University New Orleans, a history that connects the Mississippi River to Central, South America and the Caribbean. PALIG's CEO, Don Jose Souquet, is one of the most prominent Hispanics in the city, together with his wife, Ileana, who served many years as part of the Loyola University New Orleans Board of Trustees. Not long before Hurricane Katrina hit our city, PALIG had relocated its main office to New Orleans. With a city destroyed, Mr. Souquet could have made the decision to move PALIG's main office again, out of the wreckage to another place, like Miami or Panama. Instead, he decided stay here and to be a part of the rebuilding of New Orleans and later the recovery of Loyola University New Orleans. We owe him and PALIG a great deal of gratitude.
If you are Hispanic — and even more, Hispanic and female — make sure you speak your mind, and let the world know you have important contributions to make. I remember that several years ago as a faculty member, I was a part of a meeting in which I was the only female (all the other participants happened to be white males). I was trying to make a point with no success, when I decided to turn to one of my co-authors, a friend, to ask him to make the point I was trying to make. When he did, it made all the difference in the discussion. Finally, the point was being listened to. This is the most striking memory I have of a time when I felt that I was not taken seriously because of who I was. As you can imagine, I was very unhappy at the end of this meeting. When it ended knowing that I was hurt, one of the participants made a joke: "Maria, can you go get us some coffee? I am not asking because you are female but because you are Hispanic." Believe it or not this happened here at Loyola! I remember talking individually afterward to all of the meeting's participants. My colleague who made the joke had knowingly or unknowingly brought out a reality: often, we do not listen to the value of what people are saying and are blinded by our own biases.
In this institution of higher education recognized as one with excellent race/class interactions, let us make sure we listen carefully to each other and speak out against injustices. Our Jesuit, Catholic community demands that we do so, for ourselves and for future generations.
Happy Hispanic Heritage Month!