Five Loyola artists to see before they graduate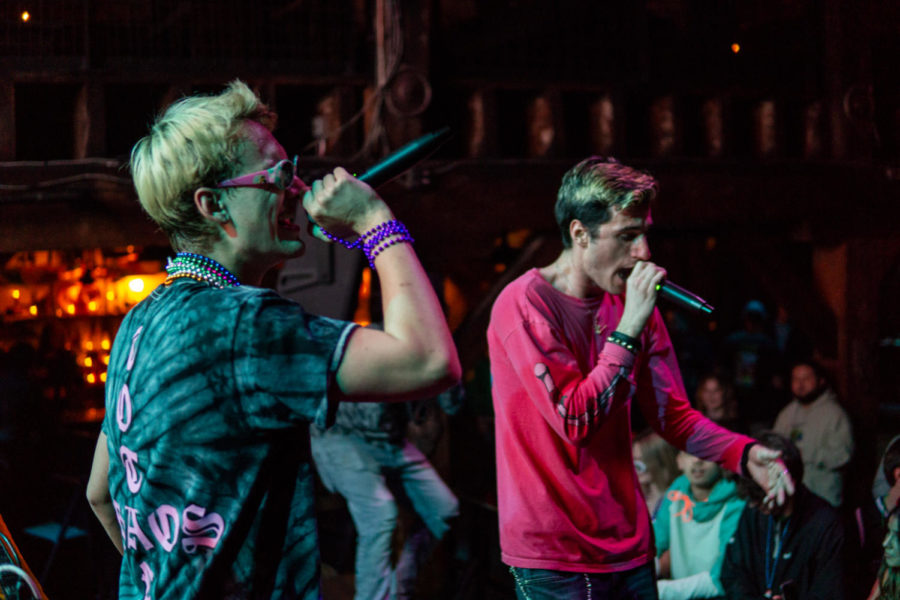 When I started at Loyola, I once remarked that someone could throw a stone into a crowd of students and be hard-pressed not to hit a musician. Even students who aren't enrolled in the College of Music may surprise you.
From casual "SoundCloud rappers" to post-punk bands and everything in between, Loyola's talent reserves run deep in a city with a historically vibrant musical culture. The next time you see an event including one of these five acts, consider supporting your peers and the future of the American music industry.
1. Samwyse & Ayotemi
The first duo on this list has been collaborating since its earliest years at Loyola, and its members perform independently of one another about as often as they appear together. They are Loyola's premier reggae musicians, dabbling in R&B, funk, neo-soul, hip-hop and jazz at times. These Loyola seniors' particular brand of music and activism has included trips to Jamaica, commentary on genocide and police brutality, and the promotion of their brand of peace, love and unity through their IRIE Collective, a rotating lineup of musicians who support them, as well as a lifestyle philosophy and merchandise company. Check out Samwyse's most-recent single "May Be" and Ayotemi's June-EP on Spotify if you need to raise your vibration.
2. DAVESTATEOFMIND
Loyola junior Dave Byers, aka DAVESTATEOFMIND, has immense vocal talent. The first time I saw Dave perform live was during a last-minute call to photograph his set at Republic NOLA, one of New Orleans' prominent nightclubs for hip-hop and electronic music. I was blown away by the raw talent and the depth of his vocal range. As a vocalist, his high energy blend of R&B, soul and contemporary hip-hop is enticing to audiences and ensures that every performance will be memorable. Dave performs consistently and has previously opened for Taylor Bennet when he visited the New Orleans House of Blues on his "Restoration of an American Idol" tour. DAVESTATEOFMIND's newest track "Blessings" can be found on Spotify with almost 200,000 plays.
3. Lip Candy
Lip Candy has enjoyed consistent success during and outside of the academic year. This pop-punk/post-grunge three-piece consists of Loyola sophomores Thomas Goetz on lead vocals and guitar, Philip Dion on the bass-guitar and backing-vocals and drummer Connor Zaeringer. If distorted shredding, grindy-bass and cannon-like drums excite you, then it is in your best interest to see Lip Candy. They have toured with New Orleans' own Paris Avenue, played the Roxy Theatre in Los Angeles and opened for the late Jimi Hendrix' brother Leon Hendrix. Their self-titled EP has been available on Spotify since summer 2018 and they will open for The Sonics on November 9th at the Ridglea Theater in Fort Worth, Texas.
4. Max Taylor & Skylar Allen
Much like the other duo on this list, juniors Max (aka Maniac) and Skylar consistently perform together and have been able to add a cult following in Russia to their list of accolades. Their combined style of no-holds barred lyrical assault moves a crowd in waves, and includes a stunning display of showmanship and performance ability. They are no strangers to Republic NOLA, where twice they have opened for popular trap artist RiFF RaFF. They often team up with fellow Loyola students such as the producer OVRCZ and DJ Dii Tii to round out their explosive live sets. The best representation of their catalogue can be found on SoundCloud. You will not be disappointed should you choose to add their tracks to your pre-game playlist.
5. NuSpeak
NuSpeak is Loyola's jazz equivalent to a bolt of lightning: it's unlikely you'll find them performing in the same place twice. This impressive seven-piece ensemble is comprised of Loyola juniors Nolan Tecklenburg on the keyboard, Michael Salgado on bass, Michael Taddeo on electric guitar, Karl Tietze on drums, Eli Fribush and Nabil Muquit on various saxophones (with Muquit on occasional vocals) and Brian Maassen on trumpet. As someone who grew up on Count Basie, Dean Martin and Sinatra, these guys are the real deal and you will never find a bad tune on their setlist. Most of their shows are played at house parties which, as previously mentioned, change address consistently (although they've been known to play in The Den at the Howlin' Wolf from time to time). I recommend following them on Instagram @nuspeak_nola for updates on their upcoming EP and dates of future performances.
About the Writer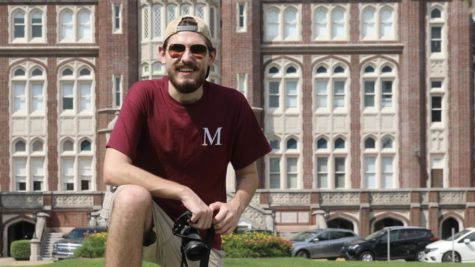 Jacob Meyer, Staff Photographer
Jacob  is a Junior at Loyola as a Digital Filmmaking Major.  He serves as the Content Producer at the Maroon, in which he serves as a liason between...