Organizations hopes to educate on gun control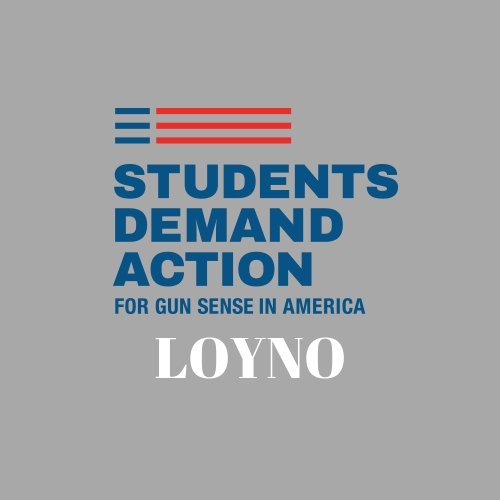 Death by guns in the United States has increased throughout the years. According to the Centers for Disease Control and Prevention's WONDER database, almost 40,000 people in the United States have died due to guns with reasons such as suicide, violence and accidents.
These statistics and much more is what brought a new organization to Loyola's campus.
Students Demand Action was chartered at Loyola University recently.
"Students Demand Action is a national group of students, high school and college, who come together with the initiative to stand against gun violence in America," said Ragine Green, president of Students Demand Action at Loyola.
Students Demand Action is a national organization in the United States and it is the daughter organization of Moms Demand Action. Moms Demand Action is fighting for public safety measures that can protect people from gun violence. All of the organizations fall under the wing of Everytown for Gun Safety In America.
Green is very passionate about the organization and its variety of missions. Along with vice-president, Tyler Sanchez, they are both working hard to get people educated and excited about the organization. Green shared the organization's goals.
"First, to get students registered to vote. With this initiative, we can get more students to vote against horrible gun laws," Green said. "Second, to bring awareness to the senseless gun violence in America, especially New Orleans. Although this place is known for partying, it is also known for gun violence. We will strive through community outreach to #StopTheViolence. Last, to give students of our campus who have been affected by gun violence a chance to speak out and against the negativity of this matter."
Having this organization on campus is presented through its purpose, according to both Green and Sanchez.
"We want to use this platform to speak out against gun violence in America, to get our students on board to understand the dangers of loose gun laws, and to reach out into the community surrounding Loyola that is also affected by this outrage of gun violence," Green said.
Although the future of Students Demand Action looks bright on campus, there are many hardships and difficulties the organization can experience "due to opinions and administration issues," Green said.
The student leaders say they have challenges.
"Some major complexities for the work with this organization is the constant backlash of gun owners who do not want laws that create gun safety, the constant backlash of our president sweeping the constant violence under the rug and trying to connect the dots with New Orleans gun violence," Green explained.
Sanchez said this organization will help the Loyola community understand gun laws better and understand the severity of gun violence.
"In order for us to achieve each goal, we will have to educate our Loyola community and the surrounding communities on the things that we can do as a collective whole to turn the tide of gun violence," Sanchez said.
Despite the difficulties, Green and Sanchez hope to expand its membership and organization now that they are chartered. They have many initiatives planned for the future of Students Demand Action at Loyola.
"We want our school and community to get ready to see change, even if it's small. Students Demand Action at Loyola plan to be at the forefront of change when it comes to the gun violence in New Orleans, in Louisiana, and in America," both said.
New members can join Students Demand Action via Loyola's Orgsync or via their email to [email protected].