Loyola brings in largest and most diverse freshmen class in school history
COVID-19 has brought virtual learning, social distancing, and vaccine and mask mandates to Loyola in its 18-month tenure. This year, despite these hurdles, the ongoing pandemic also brought Loyola its largest and most diverse freshman cohort in its 113 year history.
The Office of Student Affairs reported that 973 students are enrolled to attend the university this fall semester. This is 22% above the school's target enrollment and 25% above the enrollment rate of 2020. Student Affairs calculated that 43% of incoming students are coming from Louisiana with the remaining 56% from 44 states and 20 countries.
According to NPR, in 2020, the National Student Clearinghouse undergraduate enrollment rate plummeted 3.9% from the fall of 2019, meaning more than 560,000 students did not attend college last fall because of COVID-19. If enrollment were to continue on this trend as a reaction to the largely ongoing pandemic, Loyola should have seen another drop in enrollment, but instead, the university is defying these odds.
Not only is Loyola welcoming its largest freshman class ever, it is also its most diverse. Fifty-four percent of the incoming class are students of color, including 20% Hispanic students, 19% Black students, 12% mixed race students and 3% Asian students, according to Student Admissions.
With this incoming freshman class, Loyola is no longer considered a predominantly white institution, a place of higher learning that has 50% or more white students. Loyola Student Affairs noted that the amount of students of color attending Loyola has been increasing for the past two years and has been over 50% since 2019.
Student Affairs reported that they hope this trend continues. Patricia Murret, associate director of public affairs, believes the efforts of the university to better accommodate students is working which means things are going in the right direction.
The university defying the odds of the pandemic is all due its efforts of improving and adjusting its long term enrollment strategy since 2018, according to Murret,. Student Affairs said that Loyola introduced a permanent test-blind admissions policy, no longer looking at ACT or SAT test scores as a factor when determining acceptance to the university.
"We see the test scores as barriers to a college education and we are looking to provide opportunities for more students," said Nathan Ament, Loyola's chief enrollment officer.
Ament said that Loyola's goal is to focus on the entire student during the admissions process, paying close attention to factors such as personality, work ethic, and character.
This incoming freshman class is Loyola's biggest yet, but Loyola has handled the growing size of classes in the past. Director of Residential Life Chris Rice said typically the residential areas are always at 100 % capacity for every school year, but the campus is always prepared to make more room for students if needed.
Rice said that, throughout trying to figure out the university fall plans, COVID-19 precautions are being taken very seriously.
"As always, we work continuously with Loyola's Public Health Team to follow (Centers for Disease Control and Prevention) and city guidelines and to ensure that students are safe and healthy in the residence halls," said Rice.
Musical theatre major Kaelyn Turkmany is one of the nearly 1,000 freshmen who is attending Loyola this fall and she is "super excited" to be coming from the West Coast to the south. She said she's ready for a change of pace and new experiences.
"It's great being a part of such a big freshman class! It'll be awesome to see more faces on campus, especially after a year where we really couldn't see anyone, so I'm really happy to be in-person with such a large class," said Turkmany.
Leave a Comment
About the Contributor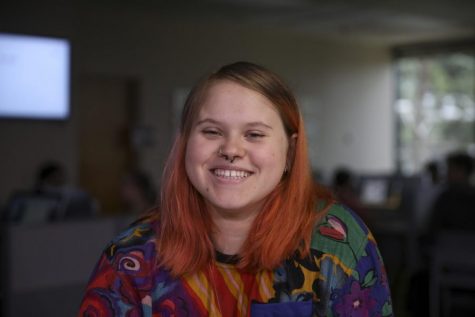 Hannah Renton, Photo Editor
Hannah Renton is a senior visual communication major and is working as Photo Editor this semester. She has previously worked as the Design Chief, Assistant...