Loyola graduate Joseph Shirley scores blockbuster projects
When Joseph Shirley wrote his first musical in eleventh grade, he knew he wanted to make composing scores his life's work.
"It was a really fun experience," he said. "I always had an interest in it. Scoring music felt like a fun career I could seek out."
Shirley made a name for himself by scoring some of Hollywood's most high-profile projects. Most recently, he scored the latest Star Wars television spin-off "The Book of Boba Fett" with award-winning composer Ludwig Göransson.
Before working in Hollywood, Shirley studied music composition at Loyola. He spent his time in college scoring student films and commercials. Shirley cites one of his professors, William Horne, as one of his early mentors.
"He taught me a great deal," he said, "and he also taught me to stay true to myself.  Dr. Jimbo Walsh and Dr. Janna Saslaw as well."
Shirley refers to his professors Janna Saslaw and James Walsh, who said they have fond memories of Shirley's time as their student. Saslaw was Shirley's professor in several music classes, while Walsh was his private composition teacher.
"He was a superlative student whose intelligence and musical skills were immediately apparent," Saslaw said.
"He was a creative musician, a self-starter, who displayed a mastery of musical fundamentals," Walsh said.
Shirley said his time in New Orleans means a lot to him as a musician.
"Music is essential to life in New Orleans," he said. "The types of music that you hear there don't exist anywhere else."
After graduating from Loyola in 2010, Shirley moved to Los Angeles and joined the University of Southern California's Screen Scoring graduate program, a competitive year-long program which only accepts 20 students at a time. Shirley said his time in the program helped him a lot with his career.
"The greatest lesson that I learned is to do what it takes to write a good piece of music," he said. "Work with it, dedicate yourself to it, and invest in yourself emotionally."
After completing the program, Shirley met Göransson who was looking to hire an assistant. Shirley applied for the position and was accepted right away. He said his first major project as a score programmer was the 2018 Marvel movie "Black Panther," directed by Göransson's fellow USC graduate Ryan Coogler. Göransson later won an Academy Award and a Grammy Award for the score.
He later arranged music for Christopher Nolan's 2020 action sci-fi film "Tenet," and now he shares a composer credit with Göransson for "The Book of Boba Fett." He regards the Swedish composer as one of his mentors and role models.
"I learned how he would approach projects, how he would approach a film score, how he collaborated with people, how he managed budgets, how he would stay creative throughout the course of a film," he said. "So, when I began to get my own work, I would look to him for advice and guidance."
Shirley described the process of working on different projects in Hollywood as hectic yet full of creative possibilities.
"When you have projects by different people, they collaborate in different ways," he said. "Sometimes, it's tough to see what they are looking for, but there's room for freedom."
For example, Shirley worked with stand-up comedian Eric André on the 2021 hidden camera comedy "Bad Trip", which adopted a traditional, old-Hollywood style for its music. He also wrote the song "I Saw a Girl Today," performed by André in the film to a crowd of unsuspecting onlookers at a mall.
"Eric is just brilliant," he said. "He came up with the melody, and then I took that and wrote the showtune."
Shirley pointed out that everyone's path to success is different. He advises Loyola students looking to follow in his footsteps to always keep an eye out for opportunities.
"There will be opportunities that may not look much, but you take them anyway," he said. "Stay open-minded. Everything's a stepping stone. Work hard and trust yourself."
Leave a Comment
About the Contributor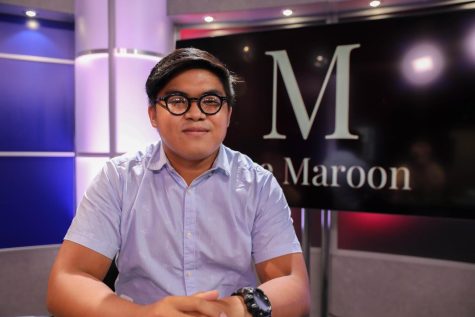 Ver Lumod, Reviews Editor
Ver Lumod is a digital filmmaking junior. He works as Reviews Editor for The Maroon. Ver has also written and directed short films. He regularly watches...