Xavier to build first HBCU medical school in Louisiana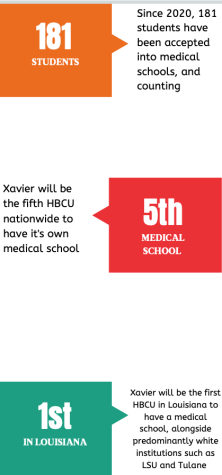 Xavier University of Louisiana will soon become the first of historically Black colleges and universities in the state to have its own medical school, and the fifth in the nation.
181 students have been accepted into their medical school since 2020, according to Xavier's website. There is no physical progress yet, as they are still in the planning stages before the school breaks ground.
Reynold Verret, president of Xavier, said at a press conference on Jan. 17 that Xavier is partnering with Ochsner Health to bring this College of Medicine to fruition.
"The need for physicians of color is great," Verret said. "Our purpose is to remedy prejudicial and inequitable structures in healthcare in the United States and abroad, and to embark on a journey that advances health equity for all the peoples of this nation."
Verret also said that African Americans are only 5% of American physicians in the United States. Xavier aims to change that number.
Xaverites said they're excited about what's in the works. Kutemwa Masafwa, a sophomore chemistry at Xavier, said that creating a medical school would improve the quality of Xavier.
"I feel like knowing that we have a medical school will bring more attention to the undergrad side," Masafwa said. "This might lead to them improving our current courses, and since I am in STEM, that directly impacts me."
Masafwa said she loves her HBCU, and these operations make her even more proud to be a student at Xavier.
"Xavier is a school of excellence," she said. "They're not just going to make any medical school, they're going to make it amazing to fit our reputation."
Although some Xaverites are excited, others are hesitant. Nasir Roberts, a junior biology pre-med major, said he and his peers are apprehensive.
"Xavier seems to struggle with managing the university as it already is, and students often suffer the most from the university's poor management, an example being the network hack that happened last semester," Roberts said. "I believe that the medical school is a good thing, and I hope that Xavier is able to properly manage the medical school so that it can provide opportunities to many aspiring Black doctors, but I am not sure if they will be able to handle running a medical school in addition to the current colleges in the university."
Despite his hesitation, Roberts said he expects the medical school will still benefit students.
"I hope that they tailor their medical program to prepare students for medical school in undergrad, so that way the transition will be more seamless," Roberts said. "I am always happy to hear about more educational opportunities being provided to Black students, however, I am cautiously optimistic."
Layla Vital, a sophomore biology pre-med major, said creating a medical school seemed like an obvious next step for Xavier.
"It's kind of long overdue," Vital said. "If we're producing the most African American doctors from our school, we might as well have our own medical school."
Vital also noted that Xavier is rapidly expanding and has all the resources students can take advantage of.
"I'm pretty sure my graduating class won't be able to experience the medical school, which is kind of unfortunate, " Vital said. "But it's kind of cool to see how future Xaverites will experience that."
Verret said Xavier's medical school would impact generations to come, long after they're gone.
"Together with this historic agreement, Xavier and Ochsner have heeded the call to advance the health of this state, the nation, and the world," Verret said.