Men's basketball team falls short of consecutive national titles
The men's basketball team is out of the running for the national championship after their losing during the first round of the conference 82-71 against the Southern Assemblies of God University Lions. Despite this early loss, the team still has achievements to be grateful for.
The team won 24 games this season, a number reached only twice before in program history back in 1945 and 2022. The Wolf Pack also entered the Den with a 4-game winning streak and No. 3 seed in the conference.
"We took a lot of strides in the right direction during the conference tournament," Harden said.
Harden averages about 13 points and 4 assists per game, which awarded him the Southern States Athletic Conference Newcomer of the Year award this season.
Senior forward Jalen Galloway led the team in scoring and rebounding with 18 points and 7 rebounds per game. Galloway was named first team all-conference and tournament MVP of the Southern States Athletic Conference Tournament.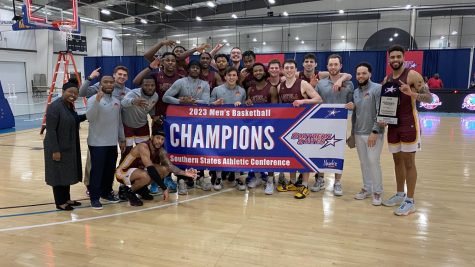 On top of team achievements, first-year head coach Donald Reyes received the SSAC Coach of the Year award this season.
"I'm extremely honored and blessed, but I wouldn't be coach of the year without understanding that I didn't play a single minute," he said. "I believe that everyone in our program, this award is for them."
The team also faced adversity this season, having gone through multiple starting lineup changes, with multiple players returning from injury and redshirting, according to second-year assistant coach Javan Felix.
"This is a super blended group," Felix said. "A group that has made an unbelievable level of sacrifice."