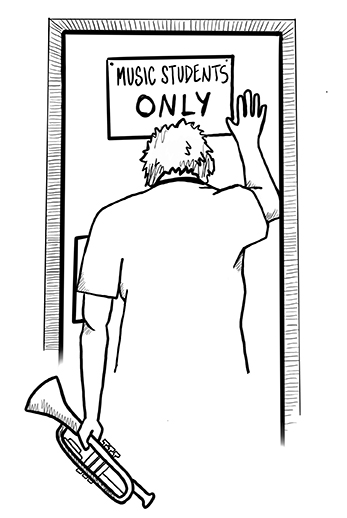 Editors' note: since this column ran, the Music school has since contacted the writer to clarify its position. Ensembles are in fact open to all who want to participate. The writer was given incorrect information at the time
Throughout my entire middle and high school experience, I was heavily involved with the band program. In my single high school town, the performing arts were the strongest thing we had.
All of my friends, for the over seven years I was in school, were in the music program. We were the quintessential "band kids."
Aside from the social aspect, it was also creatively fulfilling. I won't claim to be the world's best trumpet player. I won't even claim to be my high school's best trumpet player. However, I was having fun.
I qualified for the all-district band every year, which was a prestigious ensemble for the top student musicians in the district. I was section leader for two years. Finding myself through my instrument and through the music was a beautiful experience.
As a writing major, my writing is heavily influenced by the classical pieces I played then, and the ways it felt to make this music. When I'm told to remember the happiest moments of my life, I always say marching band 2018 and indoor percussion 2023.
Very few people will understand the true bliss of almost flawlessly creating beautiful music with the people you love. The essay that got me into this college was about my experience in a music program – even my dorm is decorated with pictures of me and my band friends.
When I committed to Loyola, I was excited for the music our city is known for to be immersed in the school. I knew that New Orleans' history was steeped in music, and that Loyola has an excellent music school. However, I am just a hobby musician.
I am not planning on going into music in my future career; I just enjoy it.
Not to mention, majoring or minoring in music would be far too expensive.
After receiving my class schedule, I spent several days on a back and forth email chain trying to join an ensemble. The answer I got was clear: if you aren't majoring or minoring in music, you cannot be in a Loyola performing ensemble. I was crushed.
This was my only extracurricular, and it was virtually all I knew. At the risk of sounding pathetic, I will admit this was my only plan to make friends. Yes, I could join the Tulane marching band, but that would be far too time-consuming and physically demanding. I still need time to complete my homework and take care of myself as a Type 1 Diabetic.
The further I get into my first semester, the more I feel something is missing. There's a hole in my schedule, a gap in my life. It seems that Loyola has no options for people like me, who want to remain in music, but are not too serious about it. I know I am not the only student with this problem. At most other colleges, students of any major may join musical ensembles, and I believe that Loyola needs to follow in their footsteps.