Final play in professor's trilogy remembers Katrina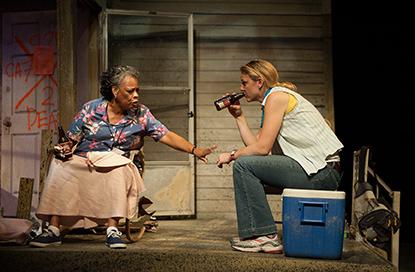 AAREN GORDON
April 4, 2013
Hang on for a minute...we're trying to find some more stories you might like.
During his return to New Orleans five weeks after Hurricane Katrina made landfall in 2005, John Biguenet grew unsure of what happened in the city during the storm.
"I began to doubt the explanations of what actually happened here," Biguenet said.
While writing a guest column for The New York Times that documented the aftermath of the hurricane from a native's perspective, English Professor John Biguenet's idea for a trilogy of plays about Hurricane Katrina started forming.
"Mold," the final play in Biguenet's trilogy, premiered at the Southern Rep Theatre on March 20. "Mold" is playing at the Freeport McMoRan Theater inside the Contemporary Arts Center until April 14.
"Rising Waters" was the first play in Biguenet's trilogy and premiered in 2007. "Shotgun" followed in 2009 and is set four months after the storm. "Shotgun" dealt with race relations in the city, Biguenet said.
"Mold," the third and final play in the trilogy, is about a couple that has been living in Texas following the storm. One year later they return to New Orleans to meet the insurance adjuster. Biguenet said coming back to the city forces the couple to confront things they haven't talked about for the past 12 months.
"In 'Mold,' it's a man having to choose between his wife and the city he loves," Biguenet said.
Biguenet said he knew "Mold" was meant for the theater because it allowed him to narrow the focus of the story and get it produced relatively quickly, as opposed to the length of time it would take to publish the story.
"Mold" runs at Southern Rep on Wednesdays and Thursdays at 10 a.m., Thursdays, Fridays and Saturdays at 7:30 p.m., and Sundays at 2 p.m. until April 14. Tickets range from $30 to $35.
"Mold" opens with Trey and Marie Guidry, a married couple, arriving in the city for the first time since the storm. Upon looking out at the city from their front porch, Marie says, "It looks like there's been a war and we lost."
Kerry Cahill plays Marie Guidry.
"The best thing about working with John is that he understands theater is a collaborative effort at its best," Cahill said.
Trey Burvant plays Emile "Trey" Guidry in "Mold." Burvant said as a playwright, Biguenet was accepting of the actors' input on characters.
Regarding the process of working with a playwright on his or her play, Burvant said, "It's rare to come away feeling fantastic. John was fantastic."
Carol Sutton plays a volunteer from the New Orleans Department of Code Enforcement named Amelia Delachaise. While she's normally hesitant to do projects that are original works, Sutton said she had a positive experience while working on "Mold."
"John was very receptive of whatever we tried to do," Sutton said. "It was a great experience."
Randy Maggiore, who is an insurance adjuster in the play named Edgar Bernard, said they started working on the play in December.
Though Maggiore met Biguenet before working on "Mold," Maggiore said he had never worked with Biguenet.
"John was open to our process as actors. We helped him shape it in what it is," Maggiore said.
Sutton said she has liked people's reactions so far.
"I love the idea that people are loving it," Sutton said.
Biguenet said this trilogy came out of his reporting for The New York Times.
While none of the characters in each of the three plays repeat, Biguenet said each part has similarities; each involves a love story that discovers the effect tragedy has on people. With each couple, Biguenet said he liked to imagine their relationship as a cracking crystal; when a crystal cracks it's caused by one little fissure. Regarding this analogy, he looks to the first little crack in the relationships of each couple.
Biguenet said in the history of the nation, there were no narrative models that he could base his storytelling off of.
"American literature has never explored the destruction of an entire city," Biguenet said.
Outside of American literature, Biguenet said he looked to post-war German literature as a guide for structure.
He said stories about Hurricane Katrina provide a lesson for the nation, not just the city.
"New Orleans is simply where the future arrived first," Biguenet said."If you don't pay attention to [these issues], it's a lesson the U.S. needs to learn, although New Orleans lived through it."
Aaren Gordon can be reached at [email protected]