Intramurals keep future Marine in ship-shape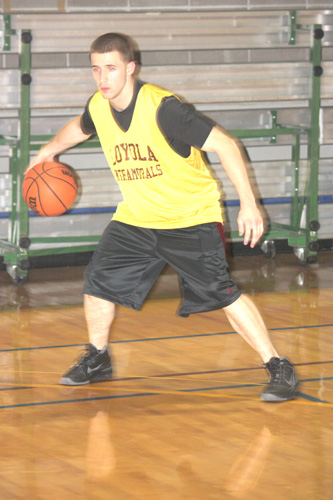 For former Loyola baseball player Eric Walsh, A'10, intramural basketball has kept him in shape to serve our country as a United States Marine.
"I wanted to join the Marines to serve my country and fight for justice and freedom throughout the world," Walsh said.
Walsh, who is a candidate for the Officer Candidates School, is attempting to improve his physical fitness test score. The PFT consists of intervals of pull-ups, sit-ups and a three-mile run.
"The higher your PFT score, the better chance you have of being selected. Also, the Officer Candidates School and the 10 weeks of officers training in Quantico are very challenging mentally and physically, So being in shape helps out," Walsh said.
On days when Walsh isn't working out in the weight room or running in the park, he exercises by competing in the intramural basketball league. "Cross training is important, so basketball is my go-to thing when I have days off from running," Walsh said.
Walsh's strong work ethic on and off the court has also helped keep him in peak physical condition.
"Eric is by far one of the hardest workers I know. There is a constant drive within Eric to always get better," said friend and former teammate Brien Delahoussaye.
Delahoussaye, accounting junior, has experienced Walsh's work ethic and competitive nature as an intramural basketball official. "Eric likes performing at a high level, and intramurals help him do that," Delahoussaye said.
Walsh has always stayed in shape for baseball, and he understands that he'll need to be in peak physical condition to be one of the few chosen by the Selection Board to serve as a United States Marine.
"The projected release date for names that are selected will be April 11-15. So I am waiting until then to confirm, and then hopefully I will be shipping out in June," Walsh said.
Richard Dempsey can be reached at