Lecture focuses on society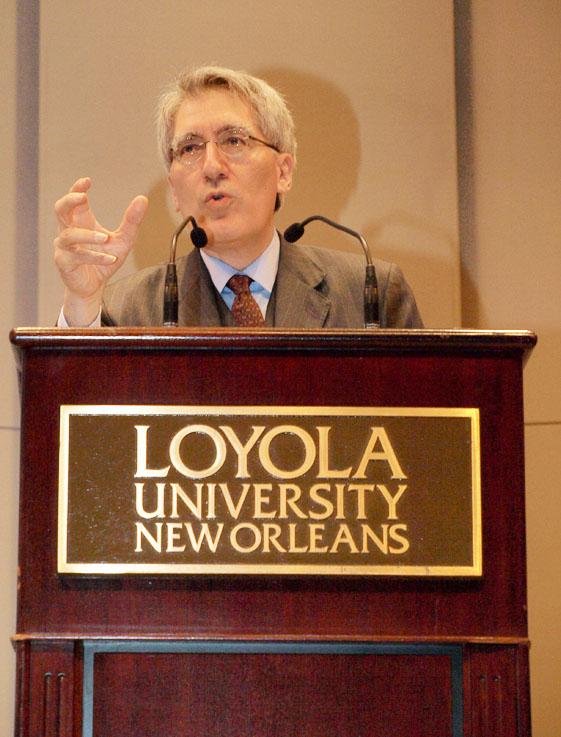 BURKE BISCHOFF
March 15, 2013
Princeton University's McCormick Professor of Jurisprudence gave a lecture on Loyola's campus, discussing the importance in shaping a more decent and dynamic society by focusing on the poor and families.
Robert George, director and founder of the James Madison Program in American Ideals and Institutions, presented a lecture for Loyola's centennial celebration in the Roussel Performance Hall Wednesday, March 6. The lecture, titled "Five Pillars of a Decent and Dynamic Society," focused on treating the poor with civil and moral respect so our society can improve itself.
Business professor Jeffrey Krug said that George was chosen to give the lecture because he exemplified two of the 12 Jesuit Ideals, linking faith with justice and special concern for the poor and the oppressed.
"We chose him to speak because we were very interested in Robert George's ideas with the connection of faith and ethics and how they relate to the things we're doing in the College of Business," Krug said.
During his lecture, George said that people need to respect every person's dignity as a human, nurture a flourishing family culture and run a fair government in order to produce a decent society.
"The formal and informal institutions of society and the beliefs and the practices of the people are such that the human being, the person, is regarded and treated not as a means to other ends," George said.
George said a decent society might not be considered a dynamic society. According to George, a society has dynamism if it can institute educational institutions that educate the mass public and a market economy that generates, distributes and preserves wealth.
"Respect for the dignity of the human being requires a cultural ethos, in which people act from conviction to treat each other as human beings should be treated, with respect, civility, justice, compassion and love," George said.
Burke Bischoff can be reached at [email protected]