Streetcar construction crawls forward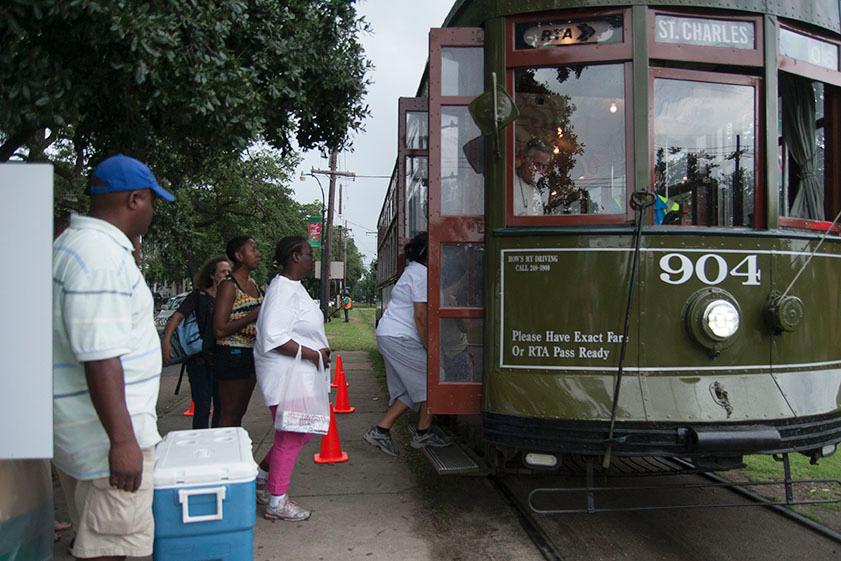 BURKE BISCHOFF
August 29, 2013
The New Orleans Regional Transit Authority is introducing more service changes on multiple streetcar lines throughout the New Orleans area effective Sunday, Aug. 25.
According to the transit authority, the Morrison streetcar, Canal Street to cemeteries streetcar, Canal Street to City Park streetcar, Loyola Avenue to the Union Passenger Terminal streetcar and Jackson Avenue to Esplanade Avenue streetcar will have adjustments to the timetable.
The St. Charles Avenue streetcar will have maintenance work switched to Uptown and will run between Canal Street and Jefferson Avenue, while bus shuttles will run between S. Claiborne Avenue and Jefferson Avenue.
The City Park/Museum streetcar route is changed to stop at Harrah's Casino and no longer serves the French Market and Riverfront line stations, according to the rider alert service on the transit authority's website.
Mass communication junior Zivi Sokolic said she used to take the St. Charles Avenue streetcar to work every day until the spring 2013 semester. She is not happy with the way the construction is continuing.
"I feel cheated," Sokolic said. "Ever since I've been here it's been under construction, it never seems like it runs on time and it's not really a reliable way to get to where you need to go unless you have all day."
English writing sophomore Kyle Bonnet said he rides the streetcar five to eight times a week, which is less often than last summer when he had to use the bus service about 15 to 20 times per week when there was no streetcar service. However, Bonnet said he feels what the construction is doing is beneficial to people who regularly take the streetcar.
"My feelings toward the construction are simple. It's great," Bonnet said.
Bonnet said he believes the transit authority is doing all they can to improve the streetcar lines so that they can provide better service to their patrons.
"I can understand how this can be an inconvenience to some who prefer riding on the streetcar; however, as long as there's a transportation service that can get me from point A to point B, I'm okay with the construction," Bonnet said.
Sokolic said that it's a hassle to switch from a streetcar to a bus while traveling on the same route, and then to wait for multiple streetcars and buses to get where you are going.
"To me, it makes more sense just to close down the whole line and run a bus until the line is finished," Sokolic said.
Bonnet said he recognizes that switching between a streetcar and a bus is a nuisance, especially if someone needs to be at destination at a specific time.
"For instance, when I worked at my previous job, I had to make sure that I arrived at the streetcar an hour before my shift began," Bonnet said. "I had to adjust to the construction, which has not been a burden to me."
Burke Bischoff can be reached at [email protected]