Brees recalls '06 courtship with Dolphins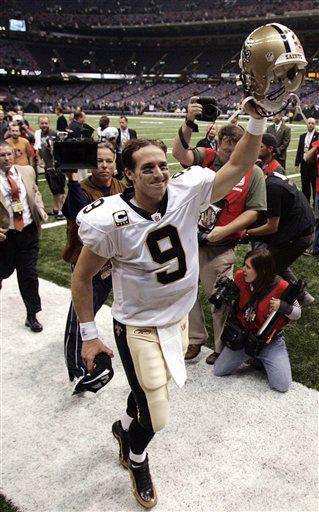 DAVIE, Fla. (AP) — The quarterback who got away is finally coming to Miami to play Sunday.
Drew Brees will play the Dolphins for the first time since they courted him as a free agent in 2006. He has since thrown for 15,310 yards and 101 scores for the New Orleans Saints, while the Dolphins are on their seventh starting quarterback and third coach in the past four seasons.
The Saints outbid the Dolphins, then coached by Nick Saban. New Orleans offered Brees $10 million guaranteed even though he was recovering from a serious shoulder injury.
"I had great visits at both places," Brees said Wednesday. "In the end I felt like New Orleans was a calling for me. I just got that feeling that I was truly wanted and needed, and it was just a perfect match.
"All due respect to the Miami organization and coach Saban, but I didn't feel like they believed in me and my ability to come back from that injury like the Saints did. Plus, when you look at post-Katrina and the recovery and my ability to be a part of that, that was important to me as well."
Hurricane Katrina ravaged the New Orleans area in August 2005.
When Brees chose the Saints the following March, Saban conceded the Dolphins were wary of his shoulder. Miami instead traded for quarterback Daunte Culpepper.
"It doesn't do a lot of good to buy a condo on the beach where the mortgage is so high you can't put any furniture in it," Saban said at the time. "And a part of this process is to be able to inspect the condo and make sure it's worth what you think it might be worth."
Saban now coaches at Alabama. Culpepper is with the Detroit Lions. Brees and the Saints are in first place in the NFC South at 5-0.
There's some consolation for the Dolphins: They believe they may have finally found a franchise quarterback in second-year pro Chad Henne, who is 2-0 as an NFL starter.
Copyright 2009 The Associated Press.