Stepping up to the Plate
Uptown Dining Services offers two more eateries that accept Wolfbucks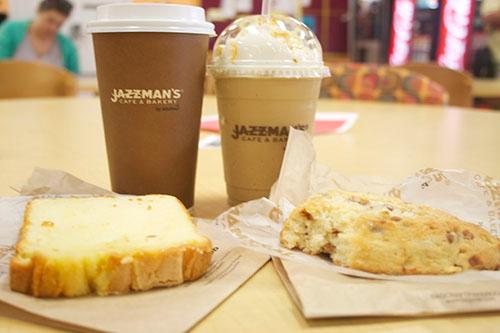 Lauren Irwin and LAUREN IRWIN
September 19, 2012
Hang on for a minute...we're trying to find some more stories you might like.
New year, new dining options. Uptown Dining has opened two new eateries at which Loyola and Tulane students can swipe their Wolfbucks and Wavebucks. Beginning this semester, students can dig into 24-hour diner grub at the Original City Diner or sit back and enjoy a latte at Jazzman's Café & Bakery.
Original City Diner
Loyola students rejoice, your Wolfbucks will now pay for a multitude of 4 a.m. breakfasts-compliments of the Original City Diner.
City Diner is the newest eatery at Tulane and the only Uptown Dining Option open 24 hours, replacing WOW Café and Wingery at Der Rathskeller, located in the Garden Level of Tulane's Lavin-Bernick Center.
"We were looking for a strong, local brand," Thomas Beckmann, general manager of Tulane University Dining said. The original City Diners, located in both Metairie and Harahan, had the diner concept and menu Tulane University Dining Services was looking for, with reasonable price points to match.
"The menu has tons of unique plates, like the Bottom of the Bowl-a baked bread bowl with shrimp, crawfish and crab meat," Beckmann said. "They serve it at Jazz Fest."
Along with city mainstays-Po-boys, gumbo, grits, hamburgers and seafood-the menu is breakfast-heavy, teeming with omelets, benedicts and hashbrown creations. The specialty plate, Big Country Breakfast, is complete with two eggs, your choice of meat and grits or hashbrowns, and one pancake larger than your and your friend's faces combined­.
Whether you order the Country Fried Steak, Crawfish Monica Pasta or a Roast Beef Po-boy, don't expect to spend over $10. Most items on the menu are priced at $8 to $10, with the most expensive meal being the Cajun Omelet or Crab Cake Benedict, ringing in at $11.99 each.
Besides the new menu, Der Rathskeller, affectionately referred to as the Rat, has gotten a bit of a facelift. Pastel red and green circular booths line the sidewall facing the stage, replacing stiff, steel booths. Stretches of muted televisions continue to hang on the tan wooden walls, with jukebox installation in the works. Workers, clad in teal and black retro-uniforms, serve individual tables. Not feeling a conventional table? You can sit on plush, spinning stools located at the diner's bar.
"The response has been outstanding," Beckmann said. "Faculty and staff have been warming up to it since they miss their Lagniappe." To make up for the loss of Lagniappe, a former Tulane dining option, City Diner has made sure to offer similarly delicious, inexpensive breakfast and lunch specials.
With any meal served hot anytime, City Diner makes sure New Orleans college night owls and early birds are kept fed at all hours.
Jazzman's Café & Bakery
Move over CC's-a new coffee shop has hit the Loyola community. Jazzman's Café & Bakery, located on Loyola's Broadway Campus, opened this semester, replacing long-standing soul food eatery, Dunbar's.
Tucked away in the Loyola University Broadway Activities Center, Jazzman's is open Monday through Thursday from 8 a.m. to 6 p.m., and closes at 2 p.m. on Fridays.
After Dunbar's moved out of the Broadway Campus, Loyola Dining Services surveyed campus students and staff to see what their needs were.
"Students were looking for more healthy options and coffee on the Broadway Campus," Heather Bacque, general manager of Loyola University Dining Services said.
The menu consists of a multitude of coffee brews and specialty beverages. Coffee blends from Colombia and El Salvador are commonly brewed, as well as house blend "The Perfect Pitch." All beans are organic, sustainably grown and purchased internationally from community growers and farming cooperatives.
The café offers White Chocolate Mocha, Tuxedo and Crème Brûlée, served hot or iced. Feeling decadent? Make that drink a "blast," a frozen coffee concoction.
Moving over to the bakery case, Jazzman's meets any pastry fan's needs. Fresh muffins, monster cookies, turnovers and scones are baked each morning. If a nutritious snack suits your fancy, try a variety of dried fruits, granolas and nuts from the incoming bulk tropical fruit and nut dispensary, fruit and cheese cup, or hummus and vegetables.
Although the Broadway location will not serve the typical Jazzman's menu handcrafted sandwiches, breakfasts and salads, Sodexo provides its usual Simply to Go items. Sandwiches, salads and hand-rolled sushi normally found at Satchmo's and The Market are held in a refrigerator near the bakery case.
The café is colorful and cozy, Bacque said. It gives students and staff one more place to eat, study and socialize.