Column: Take the opportunity to combat inequality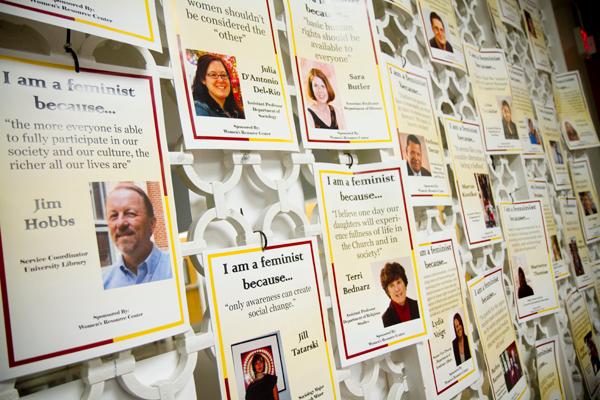 Morgan Whittler & Beth Cook
February 9, 2012
As a private Jesuit university, we tend to pride ourselves on Loyola's progressive reputation, and we have the statistics to back it up. We have a student body that is 60 percent women and 40 percent men, and women are equally, if not more, represented in the classroom. We don't have a problem saying that "women are people." In fact, most of us probably roll our eyes at that overused sentiment.
It doesn't take much to realize we're past the point of understanding and accepting that men and women are equal. The problem we run into is simple: we're too lazy to let these ideas affect our actions — even if it's best for us. It's like getting assigned homework on a Friday and neglecting it all weekend. Then, Sunday night, after hours of Facebook stalking, we finally crack open our books only to find the time at hand isn't really enough. Sometimes we forget it all together and walk into class Monday, only to be surprised it is due.
Gender equality — dare I say feminism — is our neglected homework. The only difference being that some of us (hello, gentlemen) benefit from not turning it in.
Everywhere we go, men and women are defined as opposites. Men are supposed to be strong and stoic, and women should embody emotion and compassion. We like to think this dichotomy ceased to exist when women were granted the same opportunities as men, but realistically these ideas still affect our actions. It's easy to say, "This is just the way things are." It's much harder to let your beliefs dictate your actions and accept the social repercussions of acting outside of the norm. We steer away from the issue so that we can continue believing that our looks entitle us (or define others), that showing no emotion is equivalent to strength and that the wage gap is justifiable because women are held responsible for childrearing.
There is not one person among us who would pride themselves on furthering a stereotype. Yet we find ourselves guilty of this every day, whether we put on makeup, make a "sandwich" joke or objectify women for an easy laugh. If these stereotypes don't actually represent our beliefs or who we want to be, why do we perpetuate them? And why do we hold others to these standards as well?
We have to accept that we are afraid to show people that we believe in equal rights and treatment because doing so means going beyond the norm and opens us up to criticism. We risk being called a derogatory name, being accused of going against God or getting ignored all together, written off as crazy man-hating feminists or backstabbing men.
It is the ease of social expectations and stereotypes that keep us from equality because we know that the next step in this process is no small task. Changing attitudes and actions takes effort, just like doing homework over the weekend. We've got our assignment, but it's completely up to us whether we stroll into class Monday morning unprepared or proud.
College is our opportunity to figure out how our beliefs are going to impact the way we live. We need to stop wasting time and start treating gender inequality like the problem that it is.
Beth Cook is a Spanish junior. She can be reached at [email protected]
Morgan Whittler is a philosophy junior. She can be reached at [email protected]
In My Opinion is a weekly column open to any Loyola student. Those interested in contributing can contact [email protected]