Protesters rally against pipeline
Local activists held a rally asking President Obama to reject the House of Representatives' recent approval of a pipeline expansion due to environmental concerns such as carbon pollution.
The environmental organization 350 Louisiana put on a protest rally Thursday, Jan. 15 on the corner of Freret and Cadiz Streets. The action called on the president to veto TransCanada's Keystone XL oil pipeline expansion, which would bring crude oil from Alberta, Canada to the United States.
350 Louisiana's co-founder Jenna deBoisblanc, dressed in a Captain Planet costume, said she got an email from 350.org announcing that the organization was holding a nationwide day of action in response to the Nebraska Supreme Court and the House approving the construction of the pipeline.
DeBoisblanc said about 40 people gathered together to protest.
"This is part of a national wide day of action," deBoisblanc said. "There are over 150 actions going on around the country in 50 different states and this is just the local activists partaking in that national action."
Matthew John, communications specialist at TransCanada, said the proposed Keystone XL section will be 1,179 miles long and stretch from Hardist, Alberta to Steele City, Nebraska. He also said the pipeline should be in construction and operational approximately two years after TransCanada receives a presidential permit.
DeBoisblanc said the main purpose for the national day of action was to ask President Obama to veto the Keystone XL and for them to show their frustration on a local level.
"We wanted to show our politicians, two of which have sponsored Keystone bills, that there actually is a sizable and vocal number of people in Louisiana that think that it's a terrible decision and that it needs to be vetoed," deBoisblanc said.
John said he believes the project is in the interests of the United States' security, efficiency and economic benefits. He also said he believes the Gulf Coast would benefit from a greater supply of North American oil.
"Keystone XL is going to transport 800 and 3,000 barrels of Canadian and American crude oil," John said.
"There are also the thousands of jobs associated with the construction of the pipeline, the thousands of jobs required for the manufacturing of the pipeline and also the billions of dollars of wages that will be paid to labor works associated with the construction of the project."
Bob Thomas, director of Loyola's Center for Environmental Communication, said he recognizes the economic benefits to the pipeline, but he has concerns over the environmental risks that could come with it. One concern Thomas had was the type of oil that is transferred.
"It's a very, very dirty form of oil that's being mined out of Alberta, Canada, moved through the pipeline down here and refined in our neck of the woods in East Texas, over into the Nederland and Port Arthur area," Thomas said. "So, if anything is put in the air, there's a good chance that it's gonna affect the air that I breathe."
Thomas said he is also concerned about the pipeline crossing the Ogallala Aquifer, as well as all of the fracking and new exploration for oil in a traditional sense in the United States.
"If there were in fact a spill there, it could contaminate one of the major aquifers in the United States," Thomas said. "I don't think we need to move that dirtier form of oil down to the United States, and there's no guarantees that whatever we refine in United States from Canadian oil is gonna stay in the United States."
John said the environmental responsibility of the project is undeniable. He said the existing keystone system has safely delivered over 700 million barrels of oil and that pipelines are also much more energy efficient than other modes of transportation for oil and gas.
"The project itself would have minimal impact on the environment, land and water resources," John said. "It would transfer insignificant amount of carbon emissions."
DeBoisblanc said not only was the rally important to express their concerns over the pipeline, but also to encourage people to come together and reach out to policy makers on all matters.
"It's really important to keep activists engaged and active so that when policies come up, we are ready to email our members and to really tell them that they need to contact their legislators and ask them to take action," deBoisblanc said.
About the Contributor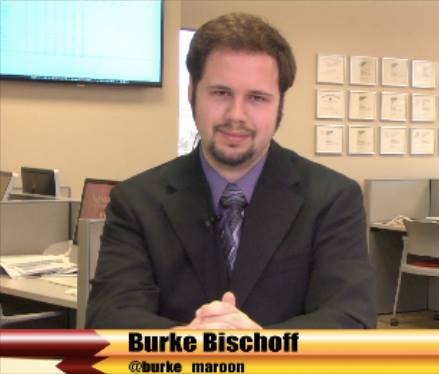 Burke Bischoff, Senior Staff Writer
Burke is a mass communications senior with a focus in journalism. He has worked as an editorial assistant, assistant managing editor, webmaster, religion...