Green space expected to connect New Orleans
The city of New Orleans is transforming a vacant railway into a scenic transportation route for locals and tourists.
The Lafitte Greenway was initially a historical canal that connected Bayou St. John to the French Quarter, and it later became a railway that has been abandoned since the mid-twentieth century.
Construction of the Greenway began in March 2014 and is more than 75 percent complete.
The project will consist of a 2.6-mile, 12-foot wide asphalt path for multiple uses. Along the path, users will find ball fields, meadows, greenery and landscaping. Sidewalks crossing the park will be reconstructed.
Sophie Harris, executive director at Friends of Lafitte Corridor, said one major advantage of the project is the connecting of the surrounding bike networks.
"Friends of Lafitte corridor is fundraising signage along the path," Harris said. "There will be signs giving directions to and from surrounding bike networks."
Previously constructed bike routes will now connect with the newly developed greenway paths, making them easier to navigate.
Harris said that it was important to ensure that the area is welcoming.
"We are really interested in having a safe space for the community," Harris said.
Kayla Lehmann, chemistry freshman, said the Greenway would appeal to tourists and Loyola students and would be a great place for her and her friends to go running.
"I think it is going to be more of a tourist attraction," Lehmann said. "But I think it is going to be really cool and pretty."
Friends of Lafitte Corridor have also been selected by the White House and six other agencies to participate in "Local Foods, Local Places," a federal group providing support for 26 communities nationwide.
Harris said that Lafitte Corridor will work in conjunction with the group to bring fresh food to the area.
"With help from 'Local Foods, Local Places,' we will be planning gardens and farmers markets along the greenway," Harris said.
Harris said all members of the community are welcome to become members of the Friends of Lafitte Corridor and contribute to the upkeep of the greenway.
"The Friends of Lafitte Corridor is a member driven organization supported by membership," Harris said. "We would love for students to volunteer and become involved in the organization once greenway is actually open."
Leave a Comment
About the Contributor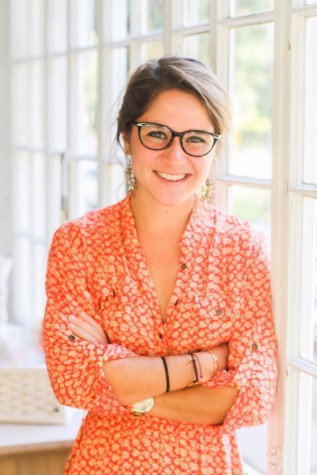 Linda Hexter, Photo Editor
Linda Hexter is a mathematics major with a minor in mass communications. Before becoming photo editor, Linda was senior staff photographer at the Maroon....