Xavier University reverend holds Black History Mass at Loyola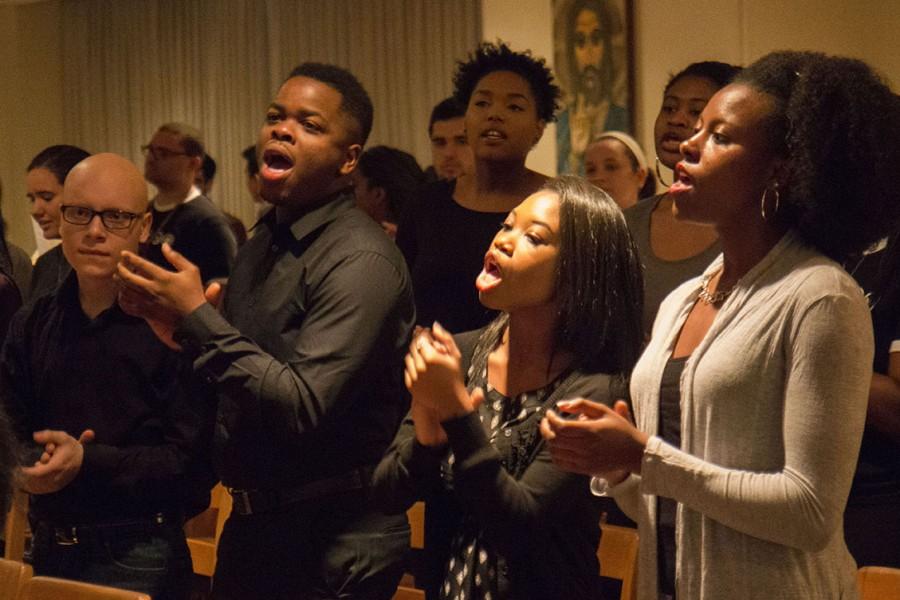 Music, laughter and prayer brightened the rows of the dimly lit Ignacio Chapel during this year's Black History Mass.
On Sunday, Feb. 14, the University Ministry held its annual Black History Mass, a Catholic service that celebrates Black History Month and faith. The hour-long ceremony was headed by Reverend Doctor Maurice J. Nutt, director of the Institute for Black Catholic Studies at Xavier University, and featured music from Loyola's own Genesis Gospel Choir.
The Mass opened with announcements from Ken Weber, resident minister for Liturgy and Music at Loyola. As the service commenced, students of all ages and non-student churchgoers quietly shuffled into the chapel.
The in-chapel band accompanied Genesis Gospel Choir in beginning the service in song, as a volunteer read an excerpt from St. Paul's Letter to the Romans to the audience. Nutt then began his humor-filled homily with warm sentiment.
"I'd like to give a shout out from one Catholic university to another," Nutt said. "We Catholics got to stay together."
Nutt went on to discuss a wide variety of topics, ranging from lessons on African-American history to messages of empowerment and identity.
Using humor, personal anecdotes and impassioned speech, Nutt involved the audience with call-and-answer prayers to drive home his main points on thankfulness of faith and ancestry.
"You are all here at 9:00 at night because the faith that was passed on from your ancestors," Nutt said.
He continued the service emphasizing the importance of those from the past. After recognizing a list of important African-American figures like W.E.B. DuBois and Fredrick Douglas, Nutt stressed a more individual thought.
"Thanks be to God for your grandmas and grandpas and aunties and uncles," Nutt said. "They may never have their names in the history books."
Nutt continued this message of thanks and repeatedly stressed the power of faith.
"Faith is a way out of no way," Nutt said. "It doesn't make sense, but it works."
Nutt wrapped up his sermon with a promise to open prayers between Xavier and Loyola, and the mass continued with the traditional sign of peace and communion before closing with more music from the choir.
While the sermon was a celebration of Black History and of all in the Catholic faith, it was accented by the musical addition of the Genesis Gospel Choir.
Alanna Everhart, vice president of the choir, was excited to perform at the mass, and understands the importance of gospel music in worship.
"I think it shows that we may be going through something, but we can't give up the fight," Everhart said.
The night was ended with student announcements and homemade jambalaya with Valentine's Day cupcakes. Dave Thomas, a finance and economy sophomore and regular parishioner of Sunday mass, left the chapel praising the service.
"The Priest had such a good way of engaging the crowd and the choir was fantastic," Thomas said.