Former professor has worked for Oprah
Hang on for a minute...we're trying to find some more stories you might like.
Lisa Martin, Loyola graduate and former mass communication professor, has been taking her career to new heights as a producer.
From producing the "Oprah: Where Are They Now?" series on the OWN Network to gaining an exclusive interview with Abby Wambach after playing her final game against China, Martin's career has allowed her travel and opened doors to many possibilities in the world of journalism.
Martin's career began after she graduated from Loyola University's School of Mass Communication and landed her first job as a production assistant at WWLTV.
"I got to travel all around the world and meet new people. I really liked it. I knew that this is where I was supposed to be," Martin said.
Later, she was offered a job at WTVJ in Florida as a news and special products producer and she was later nominated for one of the first National Emmys in 40 years.
After spending a few years traveling, Martin returned to New Orleans to pursue her Masters Degree at Loyola and during her last year, they asked her to teach while Microsoft also offered her a job.
"I took the teaching job and I don't regret it to this day. The students hated me at first thinking that I was too hard on them but when they did get the hang of it, they became great writers," Martin said.
Cathy Rogers, Shawn M. Donnelley professor for non-profit communications, said that she enjoyed having Martin as a colleague and students grew to love her during her time teaching.
"She was very supportive. I knew that if I sent a student to ask her questions or to enlist her support that she would always be responsive," Rogers said.
Martin says that the experiences that she had while teaching at Loyola greatly impacted her.
"The best thing for me was seeing how amazing young people are. You can turn on the news and see all of these bad things about millennials but it's untrue. This generation has intelligence and a passion about life and learning," Martin said.
Martin recalls various times where students gave her knowledge on many of the artists and celebrities she didn't know much about before she had to do interviews.
"I remember I came into class one day and told my students I had to interview Method Man & Redman and Christina Aguilera. I didn't know much about them but my students provided me with so much background information on them that I aced the interview. I even made them laugh," Martin said.
While teaching, Martin also became the director for the Center for Intercultural Understanding, a job that required much more time and effort than teaching students.
"One day, I was sitting and grading papers and decided that there was a whole world out there and I'm just sitting in this little office. So I called my sister, who always insisted I keep teaching, and told her I wanted to quit. She thought it was a great idea," Martin said.
Bob Thomas, director of the Loyola Center Environmental Communication, said that Martin is a dear friend and valued colleague who is excited about her recent endeavors.
"She is doing what she loves. As a professor, there were restraints that sometimes prevented her from doing the work she enjoyed as a producer. She can now do it full throttle," Thomas said.
The end of Martin's teaching career marked new beginnings as she went on to do production for Hillary Clinton. She also has worked with ESPN to cover the Saints vs. Falcons and interview Pelicans players, such as Anthony Davis.
Recently, she interviewed cast members of television series Scream Queens. She also interviewed duo Kid 'n Play for Oprah's "Where Are They Now?" series.
As for advice she would give graduates and students currently pursing journalism, Martin says to make connections, bring your A-game and most importantly, be on time.
"Find a person that you admire on the news or television and contact by phone or email asking to shadow them. This way, you can see if this is something you really want to do. It looks glam, but it's a lot of work," Martin said.
Martin says that she is happy to see the School of Mass Communication thriving and producing the new generation of journalists.
"The students in the School of Mass Communication at Loyola have the opportunity to be who they want to be and be better than those before them. You can't go anywhere without finding a Loyola grad. All of the experiences I gained there allowed me to spread my wings and fly. I love flying," Martin said.
About the Writer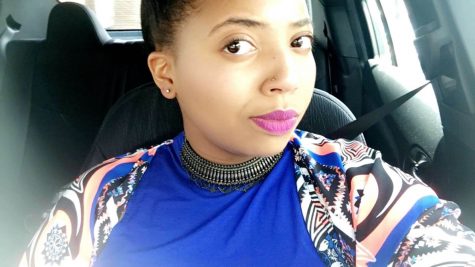 Chasity Pugh, Social Media Producer for Facebook and Instagram
Chasity is a mass communication major with a concentration in journalism and minor in African American studies. Prior to serving as Social Media Producer for...