Caribbean Mass celebrates faith and tradition
In celebration of both the Eucharist and Caribbean culture, Loyola community members praised the work of the Ignacio Volunteers at the annual Caribbean Mass.
Loyola University Ministry and Ignacio Volunteers gathered for the 8th annual Caribbean Mass in Ignatius Chapel on Sept. 25.
Ken Weber, university minister for liturgy and music, said the Mass was started in response to some Ignacio Volunteers wanting to share their experience in the Caribbean around the Loyola campus.
"We in New Orleans have a special connection to our Caribbean and Latin American neighbors. Mass is a wonderful way to celebrate both our commonalities and our differences," Weber said.
The Mass is unique in its particularly festive atmosphere, which includes reggae music and Jamaican patties as refreshments. These Jamaican traditions help create a joyous and musical celebration.
Patricia Suarez, psychology senior, traveled to Jamaica with Ignacio Volunteers in the summer of 2015. She felt the mass was a perfect place to incorporate her strong faith with her enriching experience abroad.
"After my trip to Jamaica, I brought back with me the fact that my faith has no limits. In the Mass, I share that positive Jamaican energy beside my faith, which I carry with me at all times," Suarez said.
The Iggy Vols experience has allowed the volunteers to introduce the Loyola community both to Caribbean culture and traditions as well as the idea of serving with love. The Caribbean Mass combines both of these values.
"Serving with love means treating every encounter I have with people from the Loyola community, and those who are not, with as much love as possible," Suarez said.
Josie Gautier, musical theatre freshman, attended the Mass and found it to be upbeat and welcoming.
As someone who regularly attends Sunday evening Mass, Gautier welcomed the unique approach to the Caribbean Mass.
"It's nice to have a different kind of music to appreciate a different form of worship and praise," says Gautier.
"You can feel the spirit of Christ right away as you enter the church," Suarez added.
The scripture readings for the Mass revolved around the idea of wealth, both physical and spiritual.
"We discussed poverty in material things but the wealth you can find through others and through the love of God," Gautier said.
Suarez was thankful for the opportunities the Caribbean Mass provided her to look back on her Iggy Vols experience.
"Celebrating a Caribbean Mass is a great way in which the Loyola community can have a small taste of what Jamaica is all about," Suarez said.
About the Writer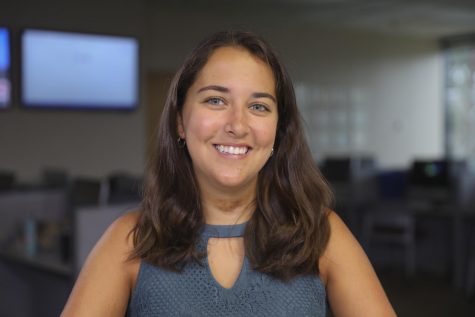 Erin Snodgrass, Editor-in-Chief
Erin Snodgrass, mass communication senior, is excited to be serving as Editor-in-Chief of the Loyola Maroon this semester. She has previously worked as...