Editorial: Sanctuary Campuses, where do we draw the line?
In response to the unexpected election of Donald Trump, whose major campaign promise was the forced removal of 12 million undocumented immigrants from U.S. soil, universities across the country have officially declared themselves as "Sanctuary Campuses."
Now is the time for Loyola University to do the same.
Contrary to what some believe, the designation as a Sanctuary Campus goes far beyond a handful of upset college students protesting President-elect Trump's victory.
In fact, the 20-plus universities and colleges that have announced themselves as Sanctuary Campuses have made a promise rather than a protest: if necessary, they will defy the federal government to protect their students.
The presidents and governing boards of schools like the University of Pennsylvania, Yale, Texas State University and Vanderbilt University have publicly vowed to uphold multiple measures that will potentially put them at odds with President-elect Trump and a Republican Congress.
Notably, these schools will prohibit Immigration and Customs Enforcement officers from entering their property without a warrant. They will also refuse ICE any information regarding their students' immigration status.
"Sanctuary Campus" is not a buzz-term. It is a direct, official challenge from educational institutions across the country to a Trump administration that no one can predict.
That is why Loyola, as a Jesuit university that upholds justice, that takes initiative to help those in need, that values the common good and that disavows demonization to promote understanding, must take action in suit.
Following the presidential election, students and faculty marched through campus and called Loyola a sanctuary for those marginalized and in fear for their livelihoods from Trump's controversial policies.
While the demonstration was received across a spectrum of reactions, it differed from university President Rev. Kevin Wildes', S.J. official statement last week, which promised to uphold the standards of the Association of Jesuit Colleges and Universities and the Association of Catholic Colleges and Universities.
In his statement, Wildes calls upon Loyola's Jesuit value of social justice, "to protect to the fullest extent of the law undocumented students on our campuses."
Wildes statement is strong, but the intention of the associations to definitively comply with federal laws is the very difference between just that: strong intentions and action.
In two years, if ICE agents were to come to campus demanding information on undocumented students at Loyola, would we give it to them in compliance with the law? Would we watch as they pulled first-year students, 18-year-olds simply seeking education, out of Biever Hall and drove them to deportation camps?
What if President-elect Trump gains the support to implement another one of his campaign promises, and ICE officers show up asking Loyola for information on all Muslim students?
Hopefully, these things will not happen. Hopefully, Trump's reeled back rhetoric since November will equate to more moderate policies. Hopefully, the checks and balances of our government will prevent any of his unconstitutional campaign promises. Of course we should hope for this.
But if we can learn anything from this election, it's that nobody knows what a Trump administration will hold. With the anti-immigrant sentiment present in our country and a legislative branch controlled by representatives of this sentiment, it is imperative that Loyola take our stand now, and not later.
If we are to truly be a sanctuary for the marginalized and uphold our values, we must do so proudly and with conviction, for the people in the back, the sides and the middle to hear.
Loyola has neither the state funding nor an Ivy League endowment that would make us as confident in this fight as Yale or Rutgers University. In fact, if the federal government were to cut our funding, it could potentially bleed the university dry. That could mean 2,600 jobs and the education of over 4,000 students on the line.
But in the face of this risk is a choice that will define who we are as Loyola University.
If anyone were to come knocking on St. Ignatius's door demanding the inhumane removal of another person, he'd be greeted with a cannon ball. Now, our ammunition is acceptance.
This is where we draw the line.
About the Writer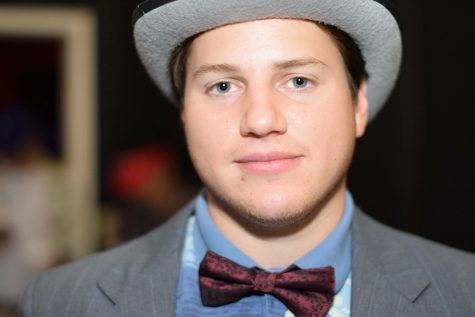 Seán Brennan, Opinion and Editorial Editor
Seán Brennan is a junior at Loyola pursuing his degree in mass communication. Besides acting as the opinion editor for The Maroon, he is also a writing...