New Orleans East comes together following devastation
---
Tuesday morning, Jordan Clayton, an equipment operator for Hayward Baker Construction Company, was building drainage infrastructures on Florida Avenue in the 9th Ward. He said he and most of his coworkers received a tornado warning and promptly ignored it.
Not much later, the owner of Parc D'Orleans, a trailer park on Chef Menteur Highway in New Orleans East, called him and told him the park was hit.
"He said 'your trailer was upside down,'" Clayton said. "I asked him about my truck, but he said it was alright, and luckily, there isn't a scratch on it."
Clayton had lived in his trailer for less than two weeks upon returning to the city. He travels to New Orleans for work.
On their way to the park from Florida Avenue, one of Clayton's co-workers, Christian Nibert, called his wife in Columbia, Mississippi, to let her know he was OK. Once they arrived, they got back to work.
"Every time there is some kind of disaster, everybody instinctively comes together," Nibert said. "We helped everybody get to the front. We helped one lady who thought she broke a rib to the EMTs. The EMTs got here quick. Their response time was immediate."
Governor John Bel Edwards declared a state of emergency in multiple Southeast Louisiana parishes after several tornadoes injured 33 and destroyed around 300 properties Feb. 7.
Within hours, members of the New Orleans East community again exemplified their resilience in the face of a natural disaster.
Clayton said he and others helped neighbors get to their medications. After helping others, John, another of Clayton's co-workers, realized Benjamin, his boxer,  was missing.
"We didn't find the dog," Nibert said. "That's when I noticed that my trailer wasn't where it was supposed to be, and I saw my propane tank."
Nibert, Clayton and others then went around the park to make sure all the propane tanks were disconnected.
Few at the trailer park said they were lucky enough to salvage some kind of shelter.
Shayne Briney, a crane operator at a nearby refinery, had help from a neighbor to re-lift his trailer and install a new footing.
"We're alive," Briney said.
Briney said he was thankful that his and the adjacent trailers were spared much of the 136-165 mph wind damage, due to their proximity to the only fixed structure in the park.
"The building took most of the damage," Briney said as he pointed to the severely damaged two-story structure.
Down the highway from the park, the tornado left nothing behind but the destruction of five businesses that had been there eariler.
Raymond Steven, a barber at Hot Spot Barber Shop and Salon II, said he came to see if he could salvage the Chef Menteur location.
"There was a Metro PCS store, a cash and loan shop, and a Mexican restaurant here," Steven said. "Its all gone now. The back wall is completely blown off."
Members from the store's other location on Simon Bolivar Avenue  gathered what they could  take in their cars.
"It came up and blew it all away," Steven said. "It's over with."
Less than 50 yards away, members of the Pentecostal Christian Church of New Orleans gathered near their place of worship. One of the followers, Alberto Hernandez said he felt that he had to be there.
"We are here to see what we can do for the church," Hernandez said. "We want to begin fixing the damage."
Pastor Windsor Semexant, the church's minister, spoke about what he thought the church needed.
"It doesn't matter that we don't have water," Semexant said. "What matters is your presence. We want to embrace you, give you our love and let you know that we are here for you."
Mario Martinez, a student at Knowledge Is Power Program Renaissance High School, lives down the street from Parc D'Orleans and was in class when the tornado hit his neighborhood.
Shortly before noon, Martinez said KIPP Renaissance teachers moved students to a designated shelter area and allowed them to use their cell phones to contact family members and arrange for transportation.
"The school buses dropped us off at the Lowe's on Chef Menteur," Martinez said. "My mom picked me up there."
Martinez said he won't have power at home until Sunday. Approximately, 10,400 properties lost power Tuesday night, a New Orleans City Hall press release said.
Most of which are in New Orleans  East.
Approximately, 250 Entergy crewmembers and contractors are working in the effected areas. They restored power to some 4,000 Louisianans by midnight. By noon Wednesday, the responders restored power to approximately 2,700 more, Entergy said.
Mayor Mitch Landrieu said no fatalities were reported, and 31 of the 33 injured have been discharged after treatment.
The National Weather Service classified the tornado that hit New Orleans as an EF3, which measures winds as fast as 165 mph.
The gusts of wind left Clayton and most of the Hayward Baker employees at Parc D'Orleans with nowhere to go, he said. The construction company chose to shelter them.
"They're going to put us in hotel rooms until we can get situated," Clayton said.
As of Tuesday, Benjamin the boxer was still missing.
Other Parc D'Orleans residents weren't as fortunate.
Thomas Janusz, who left Chicago to join the culinary calling in New Orleans, left the park shortly before the tornado struck his home, he said.
"I was on my way to get propane," Janusz. "I got the tornado warning when I was on Judge Perez highway, and by the time I got back it was over."
Janusz lost his home, and after searching for a position as a pastry chef for two months, he said the tornado took away what little hope he had left of staying in New Orleans.
"I have nothing here," he said. "I have no where to go. I'll probably pitch a tent [where the trailer was] to ward off looters, [Tuesday night], but I'm going back to Chicago."
As of press night, Loyola's Mission and Ministry said that they are reaching out to relief organizations particularly Catholic Charities and the St. Bernard Project to see how Loyola can assist. They are also accepting monetary donations, bottle water, canned food, unused toiletry and personal hygiene item, baby diapers and formula and cleaning supplies.
The Rho Epsilon Chapter of Alpha Phi Alpha Fraternity, Inc., hosted a prayer service in front of the Danna Center on Thursday during the window to pray for those affected and plan ways to assist with the clean up.
On Saturday, Loyola's National Pan-Hellenic Council sororities and fraternities are leading the Greek Community in a day of service in New Orleans East from 8 a.m. to 1 p.m. to help with the clean up.
Second Harvest Food Bank and The Food Pantry of New Orleans are accepting non-perishable food items. Second Harvest Food Bank is also accepting toiletries and cleaning supplies.
Samaritans may donate to the New Orleans Foundation's Helping Our Neighbors: Tornado Relief at gnof.org/give-now/ and to United Way of Southeast Louisiana at unitedwaysela.org/tornadorelief, which is also accepting volunteers.
About the Writer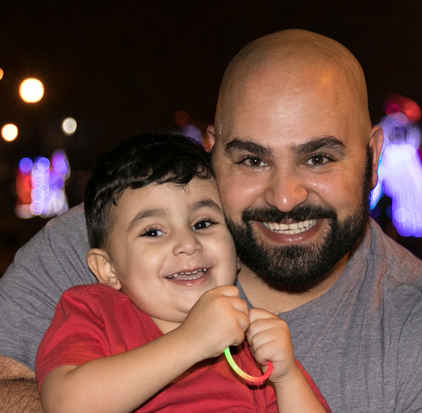 Osama Ayyad, Photo Editor
Pursuing journalism and political science degrees at Loyola New Orleans, Osama Ayyad enjoys photojournalism, international relations, and politics, and...