News Briefs 9/8
Hang on for a minute...we're trying to find some more stories you might like.
Loyola holds 'Harvey relief week'
Organizations came together to sponsor a relief week for victims of Hurricane Harvey, which devastated Houston and impacted some Louisiana residents.
Some of the participating organizations were the Student Government Association, Black Student Union, National Panhellenic Association and Interfraternity Council, as well as many other campus groups.
Throughout the week there were bins in the residence halls where non-perishable items could be collected. On Thursday, volunteers collected hygiene products, canned goods and more in the One Loyola Room in the Danna Center. On Friday, SGA will collect the bins and tally up how much money was raised.
To donate money to the cause, send it via Venmo to @LoynoHarvey. To get involved, email SGA President Ben Weil at [email protected]
Panhellenic sorority recruitment begins Thursday, Sept. 7
Loyola's four Panhellenic sororities began primary recruitment on Thursday with a kickoff event featuring Catherine Lenihan, visiting assistant professor of marketing, speaking to potential new members about the merits and benefits of sorority life.

The recruitment activities will continue through the week, ending with "Bid Day" on Monday, Sept. 11, when the new members' sororities are revealed to them.
Amy Watkins, vice president of recruitment of operations for the Panhellenic organization, encouraged all women to go through the process, emphasizing the unique and progressive culture and community.
Watkins stressed that Loyola's greek women come from all walks of life, and are involved in a variety of activities on campus. This is why women are required to meet and experience all four sororities instead of choosing a single one. Watkins believes that this way, potential members are able to see the benefits of all four sororities, and the opportunities of being part of the larger greek society on campus.
Mass of the Holy Spirit held on Thursday, Sept. 7
All 11 a.m. classes on Thursday were canceled as the university came together for the annual Mass of the Holy Spirit in Holy Name of Jesus Church.
This year's mass was notable for celebrating the 90th birthday of the Rev. James Carter, S.J., who served as the homilist, as well as being the final time the Rev. Kevin Wildes, S.J., attended the mass as university president.
The spiritual gathering began at 11:30 a.m. Students were encouraged to attend with their organized and affiliated campus group or organization, wearing their club shirts.
Immediately following the mass, the community celebrated Carter's 90th birthday with a light reception in the narthex of the church.

About the Writer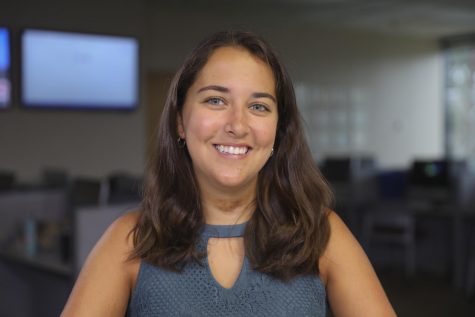 Erin Snodgrass, Editor-in-Chief
Erin Snodgrass, mass communication senior, is excited to be serving as Editor-in-Chief of the Loyola Maroon this semester. She has previously worked as...