News briefs 9/29
Hang on for a minute...we're trying to find some more stories you might like.
Provost: Presidential search to involve faculty, staff and students
Loyola's nationwide search for a new university president is beginning, and the community will have the opportunity to voice opinions and preferences.
In an email sent out by David Borofsky, interim provost, he announced that Isaacson Miller, the presidential search firm hired by Loyola, would be on campus Thursday and Friday, Sept. 28-29, to begin conversations with faculty, staff, students and alumni about what they are looking for in the next president.
Staff and faculty were asked to sign up for scheduled sessions throughout Thursday and Friday. For those unable to attend, an anonymous form was provided in the email for community members to submit their thoughts.
Borofsky provided guiding questions to think about when considering the attributes desired in the candidates. He asked recipients to think about the suspected changes in their organizations and programs in the upcoming years, and which activities needed to be sustained, enhanced and initiated.
He also asked to consider the subjective measure for determining someone's success. More information about getting involved in the presidential search can be found on Loyola's website.
'No White Flags': Steve Gleason hosts talk about disability awareness
In honor of national disability month, the Office of Disability Services will host events throughout the month of October, including a forum with former Saints player Steve Gleason.

Gleason, who received an honorary doctorate from Loyola in 2014, was diagnosed in 2011 with amyotrophic lateral sclerosis, or ALS, a neuromuscular disease. He will lead a discussion about his perseverance and goal to not only survive, but thrive. The event is scheduled for Oct. 16 in Nunemaker Hall from 7:30 p.m. to 9:30 p.m. Following the talk, there will be a 15 minute question-and-answer session.
The event, which is hosted by the Pan-American Student Success Center, and sponsored by an anonymous donor, is free and open to the public.
'Life by the Drop' forum on water management hosted in Nunemaker
On Thursday (Sept. 28), a panel of New Orleans public officials, professionals and professors gathered in Nunemaker Auditorium to discuss many of the issues New Orleans faces with water.
The event, called "Life by the Drop," tackled issues such as coastal erosion, unreliable power generation and the potential for lead exposure faced in the city.
The group included New Orleans Chief Resilience Officer Jeffrey P. Herbert, Assistant Inspector General Nadiene Van Dyke, Urban and Landscpare architect J. David Waggonner III and Loyola College of Law Professor Robert R.M. Verchick. The event was moderated by Loyola urban historian Eric M. Hardy and sponsored by the Environment Program and the Center for the Study of New Orleans at Loyola.
Loyola's Streetcar Stories is finalist for award
Angelique Dyer, digital marketing manager for the marketing and communications department, has been nominated for her work on Streetcar Stories, a web series featuring 2-5 minute videos highlighting the Loyola community that began last fall.
Her nomination is a Platinum Award by PR News for best visual storytelling.
Hosted by Edwin Unzalu, A'17, and produced by Dyer, the series was filmed on the New Orleans streetcar and integrated visual storytelling, music, and interviews.

About the Writer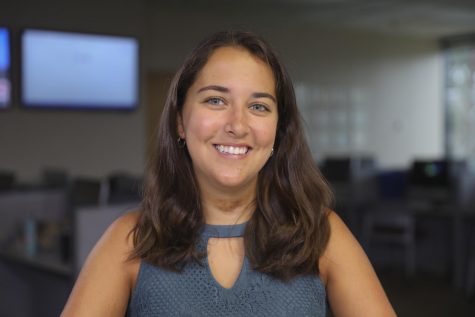 Erin Snodgrass, Editor-in-Chief
Erin Snodgrass, mass communication senior, is excited to be serving as Editor-in-Chief of the Loyola Maroon this semester. She has previously worked as...