An interview with the Darelilies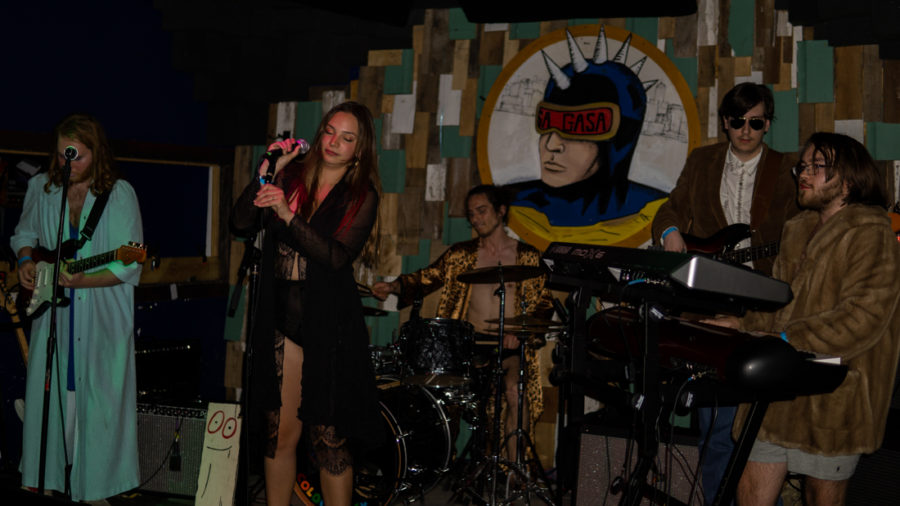 Life & Times editor, Kaylie Saidin sat down with Loyola band the Darelilies to talk about their start and their sound. This is a transcript of the full interview with the band. The article about the Darelilies can be found here.
Rhys Steuart – bass
Ella Blue Paskel – vocals
Kevin Appleton – drums
Ben McLaughlin – guitar
How did you guys end up starting the band? What's your origin story?
Kevin:
You wanna tell it?
Ella:
Yeah. I just told this earlier, this is kind of funny. I was spending the summer with my dad and my stepmom and we decided to watch the "Long Strange Trip" Grateful Dead docuseries on Amazon, and the other one with Jimmy Ivene and Dr. Dre. And I immediately texted Kevin after, and I was like, "We need to start a band called the Darelilies. And he was like, "I don't know what that is…but sure." And so…here we are.
Kevin:
It was just like the middle of summer, dead heat. I wasn't doing anything and I was the most bored of anyone that's ever been. And all of a sudden I get this text from her. And she's like, "Okay, so I've been thinking about it, I wanna start this band, we're gonna do all this, I wanna get all these musicians together, we're gonna record, we're gonna tour and stuff, and also it's gonna be called the Darelilies." And I was like, "It's your band, man, I'm on board. Hell yeah."
Ella:
Well, even before that, we all met in ensemble, which is a school program that's pretty much just like School of Rock but college credit. It's one class, twice a week. Ben and Kevin started playing with me immediately and helping me with my kind of crap solo stuff, and then this year Rhys just kind of hopped on the train which has been the best thing ever. I don't know, why'd you wanna do that, Rhys?
Rhys:
I wanted to play.
Ella (laughing):
Yeah, true.

Rhys:
I'm a (Grateful) Dead fan, y'know.
Ella:
Also – I just thought of one thing I don't know why I thought of this, but do you remember – Ben went to study abroad the first semester, so we had someone else playing with us – but do you remember when you called me when I sent you that song? You know what I'm talking about?
Ben:
I think so.

Ella:
It was such a cool moment. I think that's also part of what kind of inspired it for me, just like, I felt like we were all on the same page with what we wanted to do musically. Or at least, our lives.

What's the backstory behind your band name?
Rhys:
Oh, Jesus. Ella, this is for you.

Ella (laughing):
This is for me. I'm glad I'm telling this. It was actually that same week I started the Grateful Dead series, and my dad and I have this thing where I'll get really excited about music and we'll do something musically like go to a concert or watch a docuseries or a documentary on somebody that we both love musically. So we were talking in the pool, and we were talking, and I was like, "Wow, this has been such an inspiration. I want to carry on that legacy as best as I can. Not even theirs, but I wanna contribute to the feeling that they gave people." And he was like, "Well, you need a band name if you want a band. It can't just be 'Ella Blue.'" And I was like "Yeah, I don't want that." And we were joking, and he said something funny, it was purely all jokes. And then literally, I was taking a lap and bopped my head up, and his face is white. And I was like, "What's going on?" And he goes, "I got it. You're a Darelily." And I was like, "what is that?" And he said, "You're just the most vulnerable person I've ever met, but you're not afraid of it at all." And I was like, "Oh shit, that's exactly what I am and what I want for this. I just want everyone to see everything, but I'm not afraid of that." And… I don't know. So that's how that started. It had a few spelling variations, and I wasn't sure about the "The". But then we kept the "The," I liked the "The." So… yeah, that's how it started.
Ben:
It was "Da Darelilies", at one point. D-A.
Kevin:
I don't know what we were thinking.
Who are your musical inspirations?
Kevin:
Grateful Dead, man.
(all laugh)
Ella:
Anyone else?

Rhys:
Like, instrument-wise?

Ella:
Anything.

Kevin:
Yeah, man, who influences you to play?

Rhys:
Do you want me to start?

Kevin:
Yeah, go for it.

Rhys
Well, band-wise, the Dead, of course. But bass playing, James Jamerson, Klaus Voorman…who else….a little bit of Paul McCartney kind of deal in there. Some of those guys. So a lot of the older stuff, and then whatever Reggae bass players.
Ben:
Blake Mills. And Dawes, too. Stevie Ray Vaughan, John Frusciante. That's good for now.
Kevin:
I'm coming out from a different place with drums and stuff, but Robert Searight, Larnell Lewis, Nate Werth— that guy's an auxiliary percussionist. And then my ultimate favorite: Harvey Mason for Herbie Hancock. He played in the Headhunters for the West Coast, '60s and '70s stuff, fusion stuff. That's the tightest drummer there is.
Ella:
I guess I'd say Janis Joplin and Irma Thomas, Billie Holiday. I would even actually say that a huge inspiration for what I want to do performance-wise, even though it's so different than what we do, is Alice Cooper.
Kevin:
I knew you were about to say that.
Ella:
He's my absolute favorite person in the world.

Rhys:
I forgot one too. Most importantly, Phil Lesh.
Ella:
Hell, yeah. Well, in that case, we have to include the whole band.

Do you think your city or community has had an effect on the type of music you play? (New Orleans / Loyola?)
Rhys:
I mean, it depends, I guess.

Kevin:
I'd say absolutely. You definitely take influence from the people you go see play live, like all the New Orleans musicians. I may not implement the New Orleans style a lot in my music, but I definitely look to them for inspiration in new sounds and new ideas and for what people are liking and what's pushing the border and what's kind of drawing the interest.
Ella:
What's daring.

Rhys:
I know for me, a lot of the music I do like, like Lee Dorsey, the Meters, Allen Touissant, George Porter Jr— awesome bass player, he's another one of my favorites, too. He played a great set with the Dead. But a lot of that songwriting, that New Orleans old school sound, that second line beat, Allen Touissant stuff, it's really cool. It's got a really good vibe. I feel like our stuff kind of fits in that kind of structure of songwriting.
Ella:
Also, Irma Thomas, one of the people I mentioned, is a local here. And just going off what it means to be a vulnerable singer, I think she is the best example of that I have ever heard. So yeah, that's a huge influence of how I would like to be.
Rhys:
And we're also surrounded by music all the time.
Ella:
And our own peers, even.
Rhys:
So there's a little friendly competition there.
Kevin:
It's fun, man, I like to see what everyone's doing.
When did you first discover the local music scene and what does it mean to you?
Rhys:
Ben you wanna take this one?
Ben:
Yeah…
Rhys:
Like, in a textbook when you were a kid, learning about New Orleans or something.
Ben:
Pretty much.
Kevin:
It was only recently that I decided I was going to pursue drums as a career. I played drums for eight years now, but I didn't know what I was what I was going to do with my life. I went to a Tank and the Bangas show with my roommate at the time, and we just saw the band and it was such a unique version of what you'd think of a typical New Orleans band. They bring their own style, their own crowd, their own vibe, spoken word, blend of different kinds of music, different people just coming together. and I remember watching them, thinking, like, "I wanna do that, the way the people are moving and responding." I just was watching the drummer and thinking, I could get some of these licks. He's way better than me, but if I hacked at it, I could do it. And then I realized that this is what i wanted to do with my life.
How would you describe your band sound?
Rhys:
Really punky.
Ella:
That's a joke.
Rhys:
Nothing against that genre. I do like it.
Ella:
I don't know if we're allowed to quote this, but we were told once that we sounded "organic". And I love using that word for what we do. Organic rock.
Kevin:
I do like that a lot.
Ella:
Just something about organic, you know?

Rhys"
It's almost jam, but then we've got some country style stuff, and some old soul and some Motown…
Ben:
You could say it's like, mineral.
Kevin:
I think it's just something real.
Rhys:
It's mineral. (Laughs)
Ella:
Yeah, it's a pebble.
Kevin:
I just think when we get onstage, it's organic. Because we're kind of putting ourselves on display: there's a lot of stuff that we do that's improv, we could walk up and we don't know how a song is gonna go. We just have, like, an idea, or a simple structure. Or sometimes we'll have something incredibly structured and we'll nail it. But the thing is, we all come together and we make those decisions onstage. And people can see us communicating with each other, whether it's verbally or with our music, I really just think it's just something we put on display for people. And people can see it's very organic, it's not forced, it's something that happens in the moment. It's something people have to come and see.
Rhys:
We'll have to take a whole collection of listeners and see what they say.
Ella:
Different nouns.

Rhys:
Different adjectives.

Kevin:
Run some beta tests.
Rhys:
See what we are. That's the best way to figure it out.
Ella:
We're just open for interpretation.
Rhys:
We're just playing. We all like to play.
About the Contributors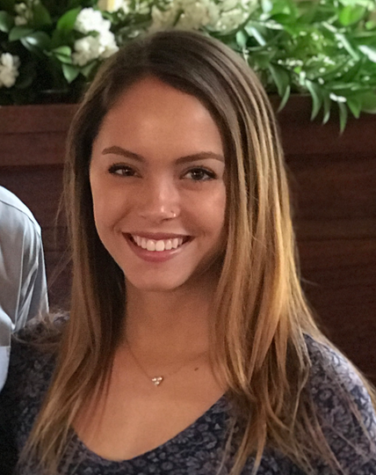 Kaylie Saidin, Opinion & Editorial Editor
I'm a senior English major with a classical studies minor. I'm currently the Opinion & Editorial Editor at the Maroon and was formerly the Life &...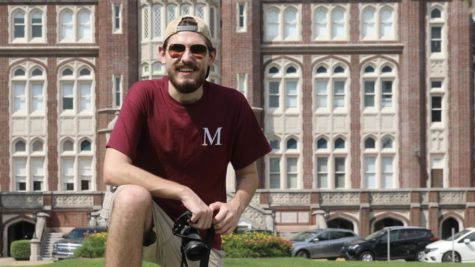 Jacob Meyer, Staff Photographer
Jacob  is a Junior at Loyola as a Digital Filmmaking Major.  He serves as the Content Producer at the Maroon, in which he serves as a liason between...