Tulane and Loyola students took to the street to launch the first of what is to become a weekly pro-Palestinian protest. They were met with opposition, as pro-Israeli counter protesters formed on the opposite side of the street, emulating a physical and symbolic divide.
Tulane 4 Palestine, along with Jewish Voice for Peace NOLA, Tulane LAGO, Abolish TUPD, Students Organizing Against Racism, Tulane Arabic Language Club, and the Muslim Student Association organized protest that took place on Freret Street and McAlister Dr. in Uptown New Orleans at 12:30 p.m., on Thursday October 26.
Pro-Palestinian protestors began with chants of "free Palestine", "never again for anyone" and "cease fire now".
Counter protesters held up images of those who had been kidnapped by Hamas terrorists in Gaza, while chanting "bring them home."
"I am fighting for my people who have been facing 75 years of genocide, 75 years of ethnic cleansing, and 75 years of killing innocent people for literally living on land." Said Lana Alsghai, a Palestinian Tulane undergrad.
This protest was a response to the current escalation in the Israeli-Palestinian conflict after Hamas terrorists launched an unprecedented attack against Israel in which they killed more than 1400 people and took almost 230 hostages on Oct. 7. In response, Israeli military officials have promised to level Gaza and have killed over 7,000 people – many of whom Israel vows are terrorists. But left in between this conflict and vulnerable to the onslaught of heavy artillery fire and missile strikes are more than 2 million civilians. A report by the United Nations Office for the Coordination of Humanitarian Affairs assesses that one third of all fatalities in Gaza are children. This has sparked global protests for a cease fire – which Israel has said it will not agree to – and humanitarian aid for those in Gaza. The protest outside Loyola and Tulane was also part of a greater long going issue against Israel encroaching on Palestinian land since World War II.
"Just because we're Muslim does not mean it's okay for us to die." Said Dima Ahmad, a first generation Palestinian and student at Loyola.
Cecilia, a Tulane student and member of Tulane 4 Palestine, highlighted the importance of differentiating anti-Zionism from antisemitism, and denied the accusations of being the latter.
Alyse, a Tulane counter-protestor said that the "Palestinians should be free from Hamas."
Yael Ascker-Krzyqiski, a Jewish descendant of holocaust survivors said, "I find it absolutely abhorrent that the settler colonial state of Israel has the audacity to manipulate and use the grief and trauma that Jewish people have in order to continue this violent occupation."
The peaceful protest turned hostile as violence erupted down the middle of Freret street.
Pro-Palestinian protesters drove down the street in a pickup truck waving the Palestinian flag, when stopped at a red light began trying to burn the Israeli flag.
After the flag was removed from his hand by a pro-Israeli counter protestor, a punch was thrown by a counter-protestor.
The pro-Palestine protestor who punched back was promptly arrested, and the street was closed off. One other individual was arrested with more expected to come in the next few days.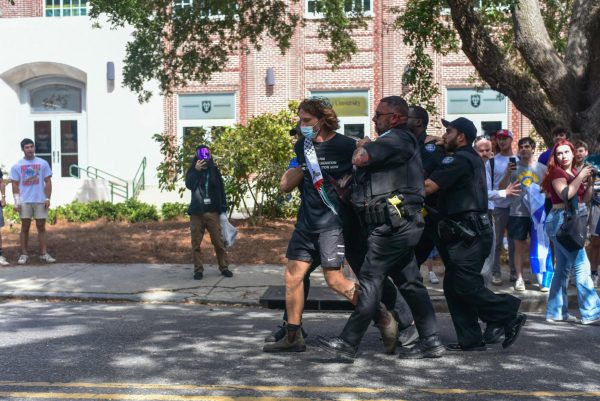 Amidst the heightened tensions following the outburst, both sides became angry, police presence increased, and counter protesters began to threaten pro-Palestine protesters with statements such as "I'll kill you all."
Tulane 4 Palestine will host more protests to ensure their Muslim, Jewish, and anti-Israel students continue to feel safe on campus, and to further the fight for the Palestinian people, according to Cecilia.