Loyola students exercise free speech through giant graffitied beach ball
Loyola students found themselves bemused by a giant beach ball of free speech that bounced around the Peace Quad throughout the afternoon on Sept. 19. The ball came to campus two days after the nationally recognized Constitution day on Sept. 17.
Jazz studies sophomore Joey Laborde was immediately drawn towards the giant inflatable and enjoyed the lighthearted approach many students took towards their graffiti.
"(It's) a big ball that you could write all over and people obviously took the free speech part a little literally," Laborde said.
The free speech ball was brought to campus by Tulane student Marcus Maldonado, the president of the universities' chapter of the national organization Young Americans for Liberty. Loyola students were encouraged to exercise their freedom of speech by taking sharpie to ball and writing whatever they pleased.
Laborde's personal addition to the ball, "I love music" written in Chinese, was juxtaposed by scrawling references to memes and phallic illustrations.
"That honestly made me kind of happy," Laborde said. "It's a free speech ball, you ought to be able to write what you want."
Journalism senior Kaitlyn Cleveland did not see the ball, but said that is she'd the opportunity to write on it she would have written an upbeat message for her peers to read.
"Since there is a lot of hate right now I would have put something positive to boost people's spirits up," Cleveland said.
About the Writer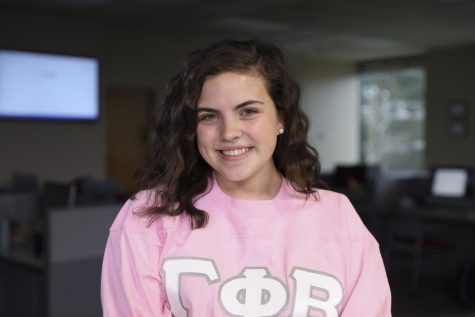 Emma Ruby, Projects Editor
Emma is a mass communication junior from Arlington, Texas. This semester she serves as the projects editor and has previously been a staff reporter, news...