Loyola alum raises awareness for ovarian cancer
Lexi Mestas' life was turned upside down when she was diagnosed with ovarian cancer in February.
Mestas, a Loyola alumna, is now determined to turn what could have been the worst news of her life into an opportunity. She is sharing her story to raise awareness to young college students about the effects of ovarian cancer and warning signs to look out for.
"It is quite devastating to have your choice of starting a family taken away from you. It is something that everyone at any age should be knowledgeable about the symptoms and to advocate for themselves," she said.
Dr. Pui "Joan" Cheng who is a gynecologist oncologist at Touro Hospital in New Orleans, LA discusses that effective screening for ovarian cancer has been difficult to achieve.
Mestas said that in the year 2021, we currently have no way of screening for ovarian cancer.
Dr. Cheng said that while resources, time, energy, and research have been put towards effective screening, a screening strategy that reduces mortality hasn't been discovered yet.
Mestas was diagnosed with a rare subtype called low grade serous. It is an epithelium cancer, a cancer that begins in the cells that line an organ. Mestas said serous feels like sandpaper that grows slowly across her organs. Prior to her diagnosis, she was dealing with the symptoms of what she and her doctors believed to be Irritable Bowel Syndrome. Bloating, gastrointestinal issues, and food sensitivity are symptoms of IBS, but are also symptoms of ovarian cancer.
"The early warning signs are there. However, they tend to be very vague and non-specific, and oftentimes they are not even gynecologic in nature, so patients do not really recognize them. Because oftentimes, the symptoms could be intestinal or urinary in nature," she said.
Mestas said she struggled with having uncertainty about her health several months prior to her diagnosis.
"Ovarian cancer is known as the silent killer because it really presents itself in a way that's very hard to detect.," she said.
Mestas has stage 4b ovarian cancer, which means that her cancer has spread to other areas of her body. She wants to make it known to young women and people with ovaries the importance of listening to your body and communicating these issues with your doctor. Mestas said that symptoms to look out for are severe bloating that causes a distended stomach, abdominal discomfort, frequent urination, and lower back pain.
Dr. Cheng said epithelial ovarian cancer, cancer that forms in the tissue covering the ovary, is the most common type of ovarian cancer.
"Epithelial Ovarian Cancer can be very insidious, meaning it can progress and metastasize in a very sort of secretive way until all of a sudden the patient starts recognizing symptoms," she said.
Mestas' focus on raising awareness for ovarian cancer and women's health comes from her background in public health. She studied food studies at the American University of Rome and worked with the Supplemental Nutrition Assistance Program. After her diagnosis, her public health focus shifted towards people with ovaries who are experiencing cancer at large, infertility, and conversations for people to advocate for themselves to their doctors.
Mestas has raised over $25,000 since March 21 for MD Anderson's Moon Shots program for low grade serous research. In her hometown of Mobile, Alabama, she will be hosting a fundraiser themed "Wiggin' Out" on September 11 in efforts to raise more awareness. Throughout that month, Mestas will also host a series of online auctions.
Mestas' goal is to let young people know that ovarian cancer can have an impact at any age.
About the Contributor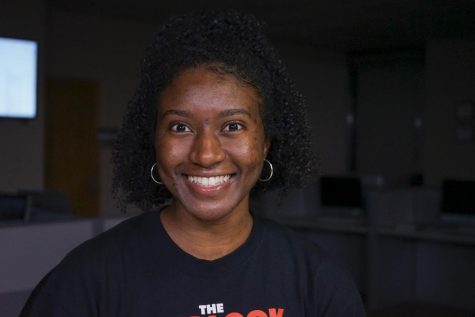 Shadera Moore, Proofreader
Shadera Moore is a proofreader at the Maroon. She is a mass communication major and digital filmmaking minor from Slidell, Louisiana. Previously, she has...