Commuter students reflect on challenges post-Ida
On her fourth birthday, Kayla Riley came back to New Orleans, confused that she could not return to her childhood bedroom. In the weeks prior, she remembered spending hours in a car ride to Houston, then running around the hotel where her family evacuated, unaware of Hurricane Katrina's devastation.
Ten evacuations and two uninhabitable homes later, the political science junior is again displaced from a storm that made landfall on Aug. 29, the exact day Hurricane Katrina took away her childhood home 16 years ago.
"Hurricanes are very traumatic for me," Riley said. "My first real storm experience was Katrina, and we lost everything."
Hurricane Ida struck Louisiana as a Category 4 storm, ravaging river and bayou parishes with 172 mph wind and catastrophic flooding, including Riley's hometown of LaPlace, Louisiana.
Riley said she expected to evacuate for a few days, but then noticed neighbors posting addresses of people who were trapped in their houses, asking for help.
A week after the storm, Riley came back to a home that was uninhabitable, sustaining three feet of water damage, a mangled roof, and a downed wall at the front of the house, she said.
"Katrina was 16 years ago, and we still hadn't really fully recovered financially from it," she said. "So to have the same thing happen again, it really kind of, it brings you down and it makes you lose hope."
During Loyola's three-week hiatus on in-person classes, Riley stayed in Houston with her family and drove home on weekends to salvage what she could, she said. For weeks, she has been living off of two containers of clothes, not knowing how many were spared from the storm.
Riley is just one of Loyola's commuter students who was displaced by Hurricane Ida, a storm that damaged an estimated 800,000 homes across the state, according to National Mortgage News.
Water and mold damage caused by Hurricane Ida made English senior Cristo Dulom's rental house near Loyola and childhood home unlivable. In both cases, Dulom, a member of The Maroon, said he had to move immediately after his landlords gave him notice.
"Seeing our house pretty much gutted and all the walls were stripped down to the bones, there was big piles of debris since destruction was going on, it was really heartbreaking," Dulom said.
Dulom said he took a 27-hour trip to pack up his rental home in New Orleans, move the boxes to a storage unit in Baton Rouge, and return to Shreveport where he evacuated.
"At one point, we stopped in an IHOP parking lot, I think it was around two or three a.m., to just take a quick power nap," Dulom said.
The day before classes returned to campus, Dulom had to move into his new apartment in one day.
"I'm so very tired of moving stuff," Dulom said.
After Ida, political science junior Gabriel Lesser found his home in River Ridge with roof damage, broken outdoor furniture, and debris scattered across the yard. One of his family's cars also had considerable water damage and mold, Lesser said.
While Lesser's home was saved from significant damage, the storm evoked memories of uncertainty from Hurricane Katrina, he said.
"When I was a child, I desperately wanted to go home back to my old life," Lesser said. "There was that real fear that it was going to happen again."
Lesser, like Riley, was four-years-old when the damage from Katrina stripped him from his childhood friends and home in New Orleans.
Trauma from an event like a hurricane, if not dealt with, can resurface in other natural disasters, New Orleans-based certified trauma therapist Camella Liberto Grau said.
"As they get older, if they don't deal with some of maybe the anger, or the depression, or the anxiety, that begins to fester," Liberto Grau said.
Dulom said he has not had the time to deal with his emotions.
"It's really important to me to have a stable environment for my own mental health and especially for learning and living in the disaster I'm living in is setting me up for failure." said Dulom.
The return to in-person classes after a year completely virtual and fears about the COVID-19 pandemic has also deteriorated Lesser's mental health, he said. While Lesser considered taking time off from Loyola, he moved to a part-time schedule, he said.
"It's hard to be intellectually curious and to want to pursue academia, and do all the traditional college stuff when you're under the threat of survival," Lesser said.
The last few weeks, Dulom said his life has been splitting his time between school and unpacking boxes.
"There's nothing in the dresser just because I have not been able to put up my clothes," Dulom said. "I have to scavenge for fresh socks and shirts every day."
For college students, Liberto Grau said experiencing a hurricane can be "extremely isolating," especially if they are unable to participate in college activities.
"I think their anxiety and depression for, maybe someone who's on the fence about their collegiate experience, they may not want to come back," Liberto Grau said.
Riley's decision to return to Loyola's campus meant separating from her family for the first time and living in New Orleans indefinitely.
"We underestimate the feeling of home until it's gone. For years, I was like, 'I can't wait to move out, hate my house,'" Riley said. "And now that I don't have a room, I take it back."
Director of Residential Life Chris Rice said that his department has been working with graduate and undergraduate students who need housing due to Hurricane Ida. Residential Life has been using openings in all of the dorm buildings and at a local hotel to house students, he said. According to Rice, temporary students in the residence halls will be housed for free until Oct. 1, in which remaining students will be charged a prorated amount.
"We will work to provide housing support for as many students as possible whose homes have been affected by Hurricane Ida," Rice said.
While Loyola offered for Riley to stay in the dorms, she opted to live with a family friend for the time being.
On top of the normal classes and course load that is expected of college students, Riley has to worry about unemployment, insurance, and FEMA assistance, she said.
"That's a lot for a college student to have to deal with on the daily."
The journey home, Riley said, will be a "long and grueling" process that could take months.
"That's really stressful, not just because you miss your home physically, but because you are essentially homeless," Riley said.
Leave a Comment
About the Contributor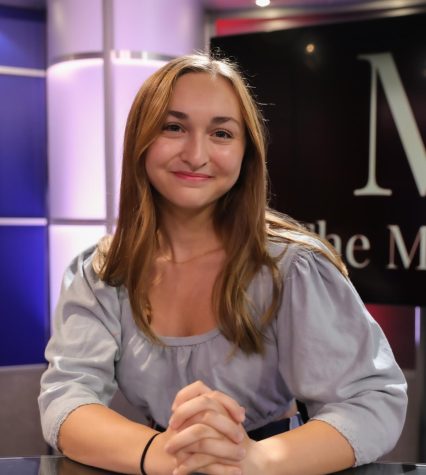 Rae Walberg, Projects Editor
Rae Walberg is a Journalism and Spanish Junior from New Orleans, LA who is excited to serve as The Maroon's projects editor. Outside of The Maroon, Rae...