OPINION: Dr. Norman C. Francis reminds us to lift up our heroes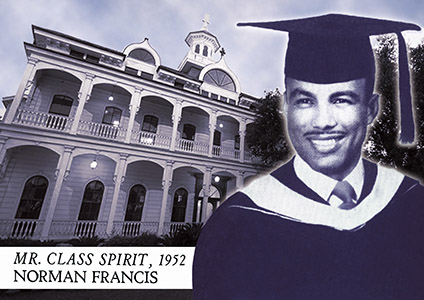 We need everyday heroes who inspire us by making the world a better place.
It is our mission and hope that a Loyola education will empower students to become everyday
heroes in ways both great and small. In the coming week, we will celebrate a true Loyola hero
who has done just that.
Dr. Norman C. Francis has dedicated his life in humble service to others. To elevate his story so that students of Loyola both today and in the future can be inspired by his extraordinary life and that of his wife of 60 years, Blanche, Loyola renamed Carrollton Hall to the Blanche and Norman C. Francis Family Hall.
Graduating in 1955, Dr. Francis is one of the first two Black graduates of the College of Law. He served for 47 years as president of Xavier University of Louisiana – the nation's only historically Black, Catholic university. The Francis Family home on Xavier's campus held legendary status as a welcoming place for generations of students who received warmth, encouragement and love as they shared meals with Norman, Blanche, and their six children.
It is our hope that the residents of Francis Family Hall will create a home where all are welcome and will find a place of belonging as Xavier students always did in the midst of the Francis Family home.
Renaming Loyola's largest residence hall is especially important since Dr. Francis did not find a home of belonging as a student at Loyola because our residence halls were not yet integrated.
He allowed this difficult reality to drive him to work with other Loyola students and faculty to
strive for the fuller integration of Loyola at every level. Their successes demonstrate what a
a group of diverse students and their mentors can do when they work together to pursue justice.
These formative experiences of Loyola friends working for the good helped shape Dr. Francis
as a legendary civil rights leader, advising eight U.S. presidential administrations on civil rights
and education. He received our nation's highest civilian honor, the Presidential Medal of
Freedom, for his meritorious contributions to the promotion of our democracy.
The Francis name displayed prominently on campus will serve as a reminder to us all that the
work for justice and reconciliation in our beloved New Orleans and nation is not over. It is our
shared responsibility to continue the work of Dr. Norman C. Francis and other heroes on whose legacies we rest.
Let's take time this week to look into our community to acknowledge those individuals making a difference through actions big and small. Let's give thanks for those laboring courageously and creatively to transform Loyola and the world for the good. Let's celebrate the Francis Family and all the heroes in our midst who encourage and challenge us to use our own gifts and talents to create a more just and humane world.