Neutral Ground News finds comedic sweet spot in Beignet City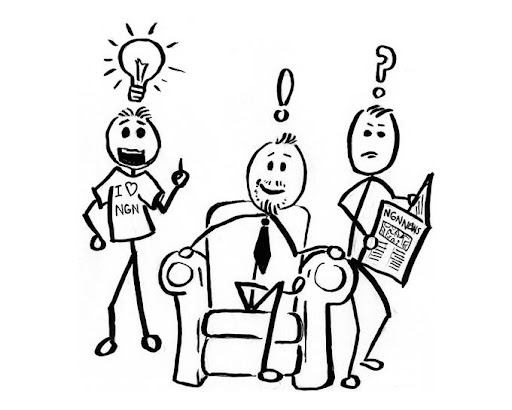 In a deep corner of the internet, snuggled between political campaign ads and stories about New Orleans's crime rate, is a satire newspaper committed to serving chuckles for folks in the Crescent City.
Named affectionately for street medians in New Orleans, Neutral Ground News serves as a local alternative for fans of The Onion, a digital satire newspaper organization. The team agreed to an interview under the promise of anonymity.
"We had always wanted to develop a creative outlet that would let locally focused crackpot ideas run free and keep satirical commentary on New Orleans as strong as the stench of Bourbon Street," Neutral Ground News said.
Amid the midterm elections, Neutral Ground News made a post on Instagram titled, "My New Orleans political movie fancast," featuring city and regional leaders from Southeast Louisiana paired with celebrity look-alikes for a proposed fan-made movie about the city.
During the fall, they posted New Orleans-inspired Halloween costumes to the newspaper's Instagram account. One costume criticized the price of Entergy bills for residents across the city, poking fun at an issue that has impacted the city since the summer. Unlike regular news outlets, Neutral Ground News said they can crack jokes and draw attention to things that otherwise wouldn't be covered.
"Satire grants the opportunity to subtly call things out in the city that need attention. Perhaps the local media is too afraid to broach a particular subject," Neutral Ground News said. "Hold our daiquiris — we don't care."
Satirical news, for the cast at Neutral Ground News, is an opportunity to be creative.
"We do this for the love of writing and laughing — a side gig that acts as a creative outlet, letting us write like we were in fifth grade again," they said.
Since its creation, Neutral Ground News has garnered more than 37,000 followers on Instagram, reached 2.7 million people, and has morphed into a community staple of comedic relief. The website features sponsorships, ads, and a disclaimer that despite real names being used, the website is not and should not be considered a source of "facts or real information."
"You know all those ridiculous thoughts you have but never play with or let out? They can be good, sometimes even great stories" Neutral Ground News said."We wanted to give all those ideas the attention they need to grow into stories and, eventually, give them a forever home. That's where Neutral Ground News comes in."
Despite disclaimers and the word "satire" in its description, Neutral Ground News still catches heat from folks that are a bit unclear on how satirical news works. In an era where joking about politics can lead to controversy, the account assured that they also must be careful for those that don't pick up on their irony.
"We toe the line, then knee the line, then elbow the line, then head-butt the line. We hate
that line. But really, there's no way to appease people," Neutral Ground News said. "The majority of our readers get and really enjoy what we do. But those few special cases are what we live for."