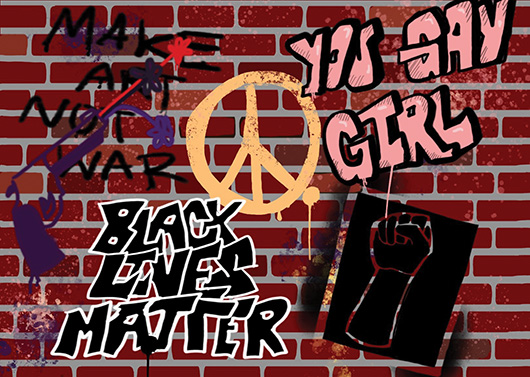 As students of a Jesuit university, protests hold an important place in our history. And, it is a tradition that needs to continue in order to ensure that our voices are heard.
Protests provide a platform to express concerns and opinions in a way that makes our voices heard. It empowers students, teaching us the importance of civic responsibility, and it allows us to take activism into our own hands. Protesting gives us a means to participate in the democratic process in a way that is seldom taught nowadays. In order to truly hold institutions accountable, it's important to make our voices heard.
Raising awareness about social, political, and environmental issues is imperative because it forces our leadership – from university administrations to political leaders – to remember that they represent us and our problems. And, that their primary duty is to serve us, the people.
Protests encourage students to educate themselves and the people around them about the important issues that affect them at school, in their local communities, and on a national scale.
Protests foster open dialogue, allowing students from diverse backgrounds to come together, exchange ideas, and challenge the status quo in pursuit of a more inclusive and equitable society. Universities are centers of intellectual growth, a place people come to learn and to develop and research ideas. Protests on campuses support the free exchange of ideas, promote critical thinking among students and even affect the wider local community.
And as one of our last lines of defense in holding institutions accountable, protests serve as a check and balance to those in leadership positions especially when they deliberately ignore the voices of the students.
Throughout Loyola's history student protest has played a pivotal role in initiating and accelerating positive change in society by pushing for reforms and challenging unjust policies.
Student protest in New Orleans has played a major role in fostering change in regards to events such as the desegregation of schools in the 1960s. Student protest was instrumental in the fight for civil rights during the 1950s and 1960s, as some of the first places in the South to desegregate schools were in New Orleans. These particular protests led to the overturning of discriminatory educational policies and paved the way for more inclusivity in the school system in the decades following.
As part of the nationwide anti-war movements, there were widespread protests coordinated by Tulane and Loyola students against the Vietnam War, as well as protests against the 2003 War in Iraq. During this time, both professors and students participated in city-wide protests in the Central Business District.
After Hurricane Katrina, students began protesting the inadequate education reforms, and in these protests demanded quality education for everyone. Whether as part of a national effort and mission or part of a local one, student protests in New Orleans have been catalysts for change in regards to issues that affect our communities.
The most recent protest that occurred here at Loyola was in regards to Dr. Heath's unjust dismissal from his position. Student leaders organized a demonstration in response to this injustice. However, the administration did not change their decision.
In this example where student voices were overruled by administrative decisions it is still important to understand that we, the students, did not fail. We raised awareness about the issue, we created a dialogue about the lack of diversity in our faculty, we built momentum for this cause, we influenced public opinion on the issue, we put pressure on Loyola to do better, we documented history at The Maroon, and we empowered Dr. Heath at a time of great distress and stood by him in solidarity. The symbolic impact should not be overlooked either — it has momentous impact on our student unity and resilience. And it has inspired hope that we will do better.
Embracing protest means doing things such as calling for rallies, marches, and awareness campaigns in order to foster positive change. As protest is a form of activism that educates and begins open dialogue, participation in open discussions in regards to social justice issues is critical to understanding the issues that people protest for.
Education is one of the most important aspects of a successful protest.
People must be educated on the need for protest, and the mission of a protest, and must also be able to educate others on the goal of the protest.
Collaboration is a key aspect of sparking dialogue and pushing for change. Working with students, faculty, and community members to amplify your voices. It is imperative to Collect stories from those directly affected by the issues you're advocating for. Sharing personal narratives humanizes the cause and can evoke empathy and understanding.
The key to success in pushing for change is to stay informed. Continuously educating yourself about current events, policies, and social matters to form well-informed opinions and meaningful contribution to discussions is the responsibility of all of us in order to be able to fight for the change that we want. As we continue to educate ourselves and push for change, we must remember that the more we communicate and collaborate with each other the greater our understanding becomes of the issues that affect us and our community. And it is up to us to affect change in meaningful ways.
We must educate ourselves, not just in classrooms, but through meaningful dialogue and in listening to the needs of the members of our community.
Beyond protests, other ways to foster meaningful change include engaging in student organizations, supporting local grassroots organization, and utilizing social media to spread awareness of these issues, and engaging in the legislative process through voting and other methods; these are immensely important to the fight of any movement.
"When you see something that is not right, you must say something. You must do something. Democracy is not a state. It is an act, and each generation must do its part to help build what we called the Beloved Community, a nation and world society at peace with itself."
John Lewis, civil rights leader and congressman