Meet 90 Pounds of Pete
Two music industry students find success with their recent dance-pop collaboration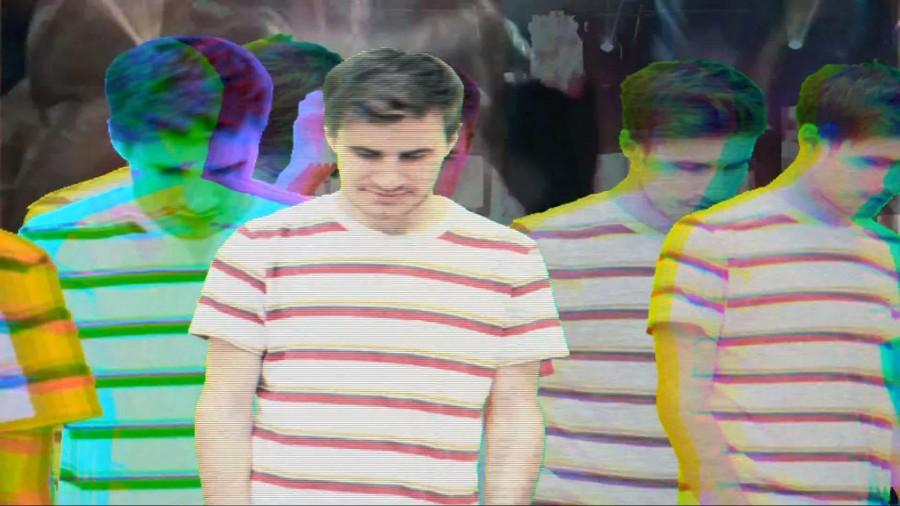 Music industry junior Peter Martin felt uncomfortable when two women licked his face on camera.
The idea, thought up by director and alumnus Tyler Yee, was filmed for 90 Pounds of Pete's music video for his second single "Promisland," due out in June.
The video for "Promisland," inspired by a party scene in the movie "Garden State," follows Martin's first video, "Arms," which garnered over 10,000 views within the first week of its release.
90 Pounds of Pete is a dance- pop collaboration between best friends and Loyola students Martin and Adam Stewart, music industry junior
Locked inside Stewart's make- shift bedroom-turned-recording studio at the corner of Spruce Street and Fern Street, the pair produced the project's four- song EP, including "Arms" and "Promisland" in fall 2012.
"The theme of the entire EP – the theme of the project – is a really awkward kid forcing himself to be in a situation where hehastobeafrontmanofapop group," Martin said.
90 Pounds of Pete is the "weird image of an awkward, shy person thrown into the limelight," Martin said.
Martin considers this persona to be "almost 100 percent" him in personality.
The name of the project stems from Martin's deemed "awkward" physique, with the musician joking that he weighs 90 pounds.
"Usually pop is dominated with sexy people who take control – the opposite of what I am," Martin said.
Just like the project's name, 90 Pounds of Pete started out as a joke. Martin spent years drumming for a Chicago-based indie rock band, Young Jesus, while Stewart sang and played guitar for rock band, Aerial Attack.
The project was born during a recording session in spring 2012 when Stewart jokingly threw a dance beat behind a pop song written by Martin. The beat stuck.
"Peter comes to my house and rails out a thousand ideas at one time and I record them all," Stewart said. "I am the translator of Peter's ideas."
Stewart, the producer, mixes individual acoustic recordings of Martin singing and playing guitar, drums and keyboard, while composing dance beats to throw behind the vocals.
Stewart turns Martin's pop songs into "full scale pop productions," Patrick Kolstad, bassist in Aerial Attack and English literature junior, said. "Adam knows how to turn Peter's pop song into a party rock anthem."
Martin agrees.
"Adam is a recording genius," Martin said. "He knows how to work with my brain."
Some found Martin's move from indie rock to pop amusing, as he is known for his indie rock credentials.
"It's funny because I saw Peter asahipsterinarockband-it was surprising to see him do this," Jordan Riewer, environmental studies junior, said.
Martin and Stewart dropped the first single, "Arms," with a music video on social media in late January.
Based on observation, "people respond to embedded video in a much more substantial way than an embedded song," Martin said. So the pair created a "weird video," Martin said.
The video for "Arms" features four minutes of stoic Martin singing aback a collage of found footage, including clips of bar mitzvah dance parties, zebra stampedes and oiled-up body builders flexing their many muscles.
"I listened to 'Arms' probably a hundred times to get me through a road trip from Austin to New Orleans," Riewer said.
"It's really fun – something you can dance and sing along to," Riewer said.
Now at 22,000 views, "Arms" has had much blog exposure, rolling in as the number one post
on GoodMusicAllDay.com for almost two weeks.
The success of "Arms" inspired the pair to make a video for "Promisland."
"We had the opportunity to work with Tyler Yee – an awesome director," Martin said. "It's going to look even weirder than the last."
"'We've gotten a lot of hype," Martin said. "It's scary and exciting – a feeling that is in line with my personality. I'm equally as terrified and excited at the same time," Martin said.
This hype may stem from the duo bringing something new to Loyola's music scene.
"Loyola has a really good music scene which definitely leans more towards the indie rock community," Kolstad said. "90 Pounds of Pete transcends that."
The project's music is "a little bit more accessible to people that might write off Loyola's music scene," Kolstad said. "Peter makes good pop songs – and everyone loves a good pop song."
Although the hype is "encouraging," Stewart said, "We have a lot of work to do."
The pair plans to move in together and spend the summer in a new bedroom-based studio.
The following two singles on 90 Pounds of Pete's EP will be released for free download after the video and song release of "Promisland."
Lauren Irwin can be reached at [email protected]