Bateman Team gives anti-bullying presentation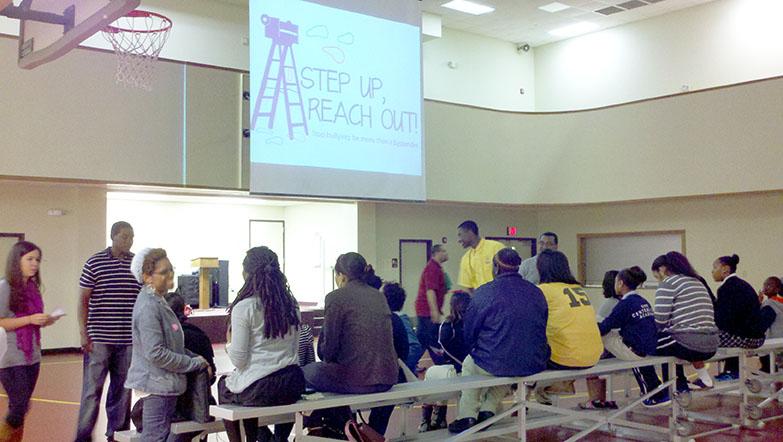 BURKE BISCHOFF
February 22, 2013
The Loyola New Orleans Bateman Team held its first out-of-school event at Franklin Avenue Baptist Church for the national Bateman competition.
The Loyola Bateman team went to Franklin Avenue Baptist Church to give a presentation on anti-bullying on Feb. 6. The presentation held a crowd of around 42 people, most of which were high school students.
According to mass communication junior and Loyola Bateman Team member Leah Whitlock, the presentation was in line with a national competition held by the Public Relations Student Society of America. She said the goal of the competition is to reach out to different parts of the city and to raise awareness of a particular theme of the year to a particular demographic.
"The theme for this year's competition is anti-bullying," Whitlock said. "As we are reaching out to the city, we are trying to focus this message towards people in a 10 – 19-year-old range."
According to mass communication senior and Bateman Team member Charlie LaRock , the reward for winning the competition is to be nationally recognized among their peers in public relations.
LaRock said that the Bateman team reached out to Franklin Avenue Baptist Church because it deals with a lot of youth bible studies and community building events.
"Any sort of organization, school, programing or anything that involves children, we are interested in partnering with because of our key demographic," LaRock said. "They were really interested in what we had to say and it was a great partnership from the beginning."
Franklin Avenue Baptist Church's Pastor Fred "Chip" Luter III said that the presentation was a very helpful experience to the children of his church.
"I think it was great," Luter said. "It was very interactive, and it provided a good level of information to the high school students that were here."
LaRock also expressed his satisfaction with the presentation.
"Everybody participated, everybody listened and I think we got the message across," LaRock said.
Whitlock said that she feels very strongly about this anti-bullying cause and hopes that the Bateman team can at least make one person think more responsibly about bullying.
"I want people to think twice about this issue when it comes up sometime in their own experiences," Whitlock said. "I hope to make a difference in at least student as we continue to perform our campaign."
Burke Bischoff can be reached at [email protected]