Annual mass promotes a holistic life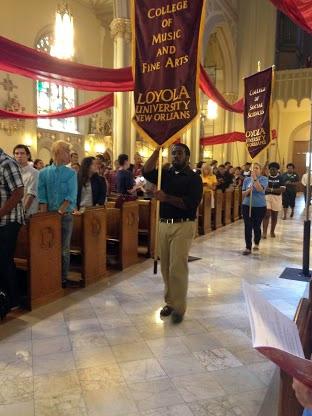 JANEICIA NEELY
September 19, 2013
The message of the Mass of the Holy Spirit this year was to find happiness in God and in life.
The Holy Name of Jesus church was adorned with maroon colors for the mass ceremony on Thursday, Sept. 12.
The mass encouraged students to strive for a holistic life. The mass advocated students to pursue careers they love while staying grounded spiritually.
The mass is a time for everyone to come together and celebrate the mission of Loyola.
The Rev. Edward Vacek, Duffy chair of Catholic studies, delivered the homily. He emphasized the importance of having a relationship with God.
"The Mass of the Holy Spirit says, 'all right, this education is not just about you and about what you can get in terms of a grade, but rather about a bigger picture of God in the world and how we at Loyola can become a part of that project'," Vacek said.
Joanna Izaguirre, music education senior and orchestra member, said the mass provides an opportunity for students to become more united.
"The Mass of the Holy Spirit is not only a time for students to pray, but more importantly, it has all the students of different activities come together and celebrate the beginning of the new school year," Izaguirre said.
The mass is a tradition, yet every year there is a new message.
Vacek's homily emphasized happiness as the ultimate goal in life.
"This year was more focused on the ultimate meaning of life, what's the point of life and what's the point of coming to a university education," he said.
This message was clearly conveyed to Izaguirre, who said she appreciated Vacek's homily.
"I enjoyed the priest's sermon the most. Although I am not Catholic, he made me feel welcomed into the church, which reassures me that I am at the right school," Izaguirre said.
The student orchestra performed throughout the mass.
"I thought the orchestra was beautiful and really showed what the Loyola music program is capable of," finance sophomore Sophia Garcia said.
The mass ended the same way it began, with student leaders processing with banners of student organizations.
"It says very, very strongly that 'I can be proud of this school' and 'I'm part of a bigger movement,'" Vacek said.
Janeicia Neely can be reached at [email protected]