Loyola professor authors first report to address the issue of human trafficking in New Orleans
A new report aims to provide accessible information about human trafficking in New Orleans and to help protect its victims.
Assistant Professor Laura Murphy, who is also the lead researcher for Loyola's Modern Slavery Research Project, authored the report, "The Louisiana Human Trafficking Report", with Brian Ea, A'12.
The report was published on March 21 through the university.
The report is the first ever to be published on the localized issue and states that human trafficking in Louisiana nearly doubled during the beginning of 2013. The report says that victims of trafficking are either falling through the cracks or are being inadvertently criminalized due to enforcement of laws.
Murphy said she decided to create the report four years ago after she started researching human trafficking upon moving back to Louisiana.
From this primary research, Murphy said she learned that there was no formal gathering of information regarding human trafficking in Louisiana.
Murphy said she decided to research and form the information that is known about human trafficking in Louisiana into a collective report to show people what is known and not known about the issue.
She said she wanted the information to be helpful to service providers and non-profit organizations that choose to help trafficking victims.
"Part of my goal was to show people we need to learn at lot more, we need to keep a lot more data, you know, and we need to do a lot more research on this issue," Murphy said.
Murphy said she believes the reason her report was the first report of its kind in Louisiana is because people were not sure how to identify human trafficking considering the exact definition of what human trafficking is has been either vague or nonexistent in past years, and that service providers rely more on taking care of the victims than reporting on it.
English Writing Junior Saramile Tate, who worked as a student research assistant for Murphy during the project, said she helped set up preliminary steps to the project by helping compile any type of information about human trafficking in Louisiana on the Internet.
Tate said it was very difficult to find and put together data because of the lack of detailed reports and laws about the issue.
"Some of that was hard to figure out, like who was getting arrested for what, basically, and just trying to kind of figure out how other groups had made their reports about Louisiana," Tate said. "It was hunting. It was basically Internet hunting."
Murphy said that a main concern that needs to be brought up by legislation is protecting the rights of human trafficking survivors and have them not be seen as criminals themselves, especially if they were forced into their work.
"What we are trying to do is create laws that ensure that people who are victims of trafficking aren't treated as criminals or aren't held responsible for the things they were forced to do," Murphy said.
Murphy, who has been working on promoting her legislative changes for about eight months, said a law that incorporates many of the issues addressed in the report is going to be voted on this legislative session.
"So, in a way, it's bad news because it's going to mean my report is out of date immediately, but that's good news," Murphy said. "That's just perfectly fine with me."
Tate said that general education about human trafficking in not just Louisiana but the entire world can help address the issue all together.
"If others were educated about human trafficking, the more can be done about the issue because trafficking is an issue all over the world," Tate said.
Murphy said she believes that it is important to end human trafficking in Louisiana because she sees the victims of human trafficking as being enslaved. She said that this type of exploitation cannot be looked away from , especially by Louisiana because of the state's history with slavery and of the inequalities that she feels still exist today.
"We cannot allow slavery to exists in our midst, given that long historical legacy of it," Murphy said.
About the Writer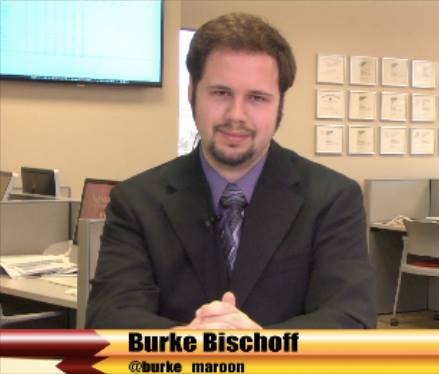 Burke Bischoff, Senior Staff Writer
Burke is a mass communications senior with a focus in journalism. He has worked as an editorial assistant, assistant managing editor, webmaster, religion...