Campus signs serve to remind people of the Lenten season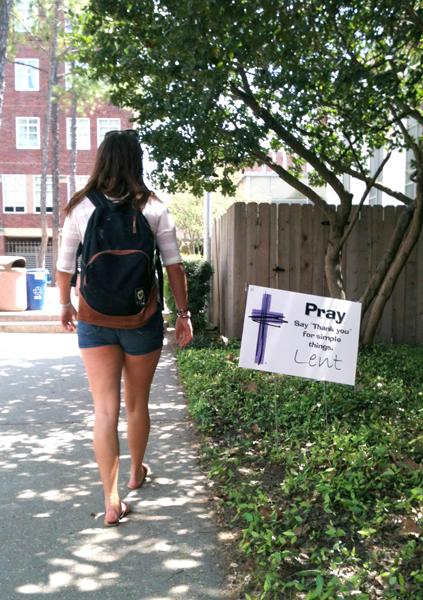 Kenna Ellis Contributing Writer, Kenna Ellis Contributing Writer, Kenna Ellis Contributing Writer, Kenna Ellis Contributing Writer, Kenna Ellis Contributing Writer, Kenna Ellis Contributing Writer, Kenna Ellis Contributing Writer, Kenna Ellis Contributing Writer, and Kenna Ellis Contributing Writer
March 29, 2012
On the way to class, the dorms or the Orleans Room, one can find Lent signs that remind students to thank God, pray and generally do good things.
According to Ken Weber, these Lent signs are posted to create awareness of the season. The signs, which are of medium size, are a bit too small for some students.
"It's hard to finish reading or see what they're saying," said music industry freshman Dylan Phillips.
However, Weber said, "The idea is not to overwhelm people but simply to gently remind them of the season."
The Lent signs help students observe the season. Most Catholics tend to fast and give alms during this season, and the signs also create suggestions for doing that.
"I think it's perfectly acceptable considering that we go to a Catholic School," said mass communication freshman Joshua Byrd.
According to Weber, this is the third year they have posted Lent signs. They plan to keep posting these signs because they have received positive feedback from administrators and faculty.
"We hope that the signs remind people who know or educate people who don't that the Lenten season is upon us," Weber said.
Kenna Ellis can be reached at [email protected]