Loyola racks up national honors
Pack athletes receive character award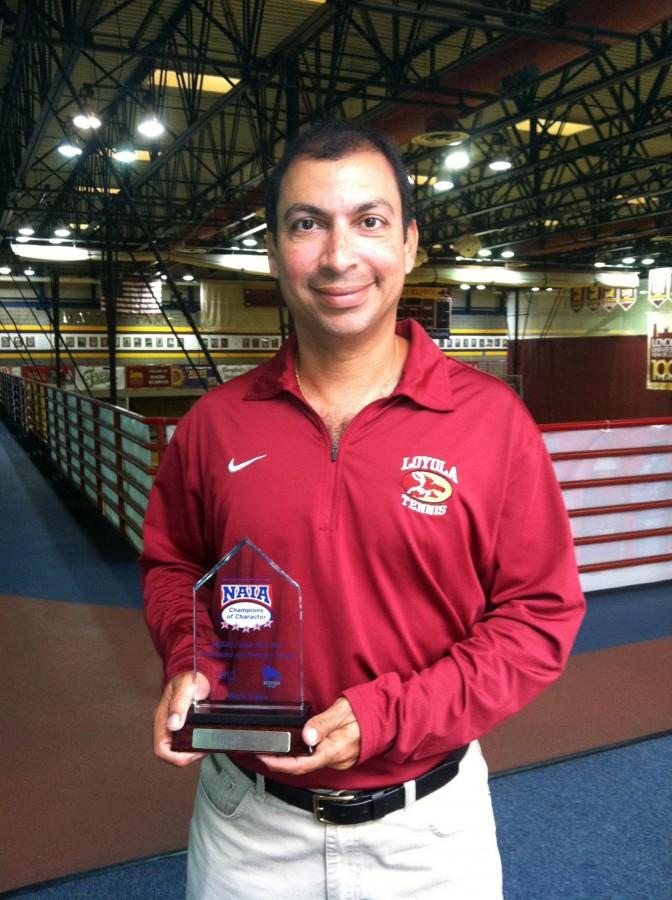 CAMI THOMAS
October 11, 2012
The athletes of Loyola's basketball and tennis teams were honored for their achievements on and off the field. Based on their academics, community service and superb sportsmanship, the NAIA awarded them the Buffalo Funds 5 Star Champions of Character Award.
The Champions of Character award is presented to teams that demonstrate integrity, respect, responsibility, sportsmanship and servant leadership, according to the NAIA. To be chosen, the team must exemplify all five core values.
Loyola's athletes put in countless hours practicing for their respective sports, but according to head men's
basketball coach Michael Giorlando, the players are just as active in the community.
"The team participated in various basketball clinics around
the greater metropolitan area, where they spoke on the Champions of Character message on the five core values
of character," said Giorlando.
"They assisted in setting up and serving Thanksgiving dinner at Bridge House and participated in the non- profit group ELEVATE's 'The Life of a College Student.'"
Such activities are what impressed the NAIA and helped the basketball program earn recognition. While participating in ELEVATE, high school students shadowed Loyola athletes for a day of classes, watched basketball practice and spoke with the team about the importance of pursuing and graduating from college.
"They embrace 'The Loyola Way' once they arrive on campus," said Giorlando. "Our student athletes value their education and experience at Loyola and strive to live up to the standards set by the program."
Loyola's abundance of multi-
t a l e n t e d athletes is not only shown by the men's basketball team – the Loyola men's tennis team was also awarded the same distinction. The players were active in volunteer work by assisting at the Second Harvest Food Bank, Into the Streets Program and Play 4Kay Foundation. Head tennis coach Zubin Engineer said he holds high standards for his tennis players and looks for the appropriate attributes while recruiting.
"The most important thing or me when I look at recruits is their personality and also their attitudes," said Engineer. "It's very important that they're humble, respectful, disciplined, and also just the way they conduct themselves."
The NAIA recognized the tennis team's high level of sportsmanship during tennis matches. Engineer helps his players keep their cool by offering calm guidance.
"The most important [thing] is to get them to focus on things they can control and to understand what they cannot control," Engineer sad. "In terms of wins and losses, that's something very hard to control because it depends on the opponent, too. But what you can control is effort and attitude, so that's what I get them to focus on."
The future of Loyola's sports program depends on the quality of the athletes. Giorlando believes that Loyola will continue to choose athletes with the necessary attributes.
"Early on in the recruiting processes, our student athletes understand what the on and off the court expectations are," Giorlando said. "We recruit student athletes that we believe will be successful on and off the court."
Cami Thomas can be reached at [email protected]