English professor remembered for enthusiasm, personality
Dux Academicus award recipient dies of marrow disorder at 54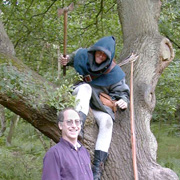 English professor Julian Wasserman was a man who mastered the English language. However, after his death, there are few who can pinpoint the exact words to describe the beloved professor.
"He's hard to describe because, he was so much more than ordinary," said English junior Megan Fillinich. "He was engaging. There was never a dull moment in his class."
Wasserman passed away on
June 4, 2003 from myelodyplastic syndrome, a bone marrow disorder. He was 54 years old.
Psychology senior Nicole Goforth described Wasserman as one of the best English teachers she ever had. Although she had class at 8:30 a.m., she said that no one had a problem staying awake with him in the room.
"He was always jumping around the class. He was so enthusiastic," Goforth said. "You couldn't ignore him. You didn't want to."
Communications junior Diana Madrigal said that Wasserman's secret was communication with his students.
"He never talked at his students. Instead, he talked to us on our level. It made him feel like less of a teacher and more of a friend," she said.
English Department head Mary McCay agreed that his students were very important to Wasserman. She said that he was willing to talk to his students about their lives and goals.
McCay said he also had the gift of making classroom discussions relevant to his students.
"He showed how the past and present meet and influence each other and how people don't change over time, but rather find new ways to express their hopes and longings," she said.
His unique teaching methods showed when he periodically dressed up costumes to lecture on various topics. Among his costumes were Robin Hood and a Medieval knight. His favorite and most-used was an Elvis jumpsuit, which he often wore to Chaucer class to lecture on the writer's status as "King of Literature."
"That was great, because it's a fun way to relate to Chaucer's works. I think Dr. Wasserman truly understood Chaucer on a deeper level than most other people," said English senior Emily Clark. "Besides, it's always great when someone shows up to class in an Elvis suit."
Wasserman taught many English classes at Loyola. His passion, however, lay in medieval studies. Wasserman wrote and edited several books and many scholarly articles on the topic. He said his favorite medieval character was Robin Hood.
"Julian really was so sort of modern-day Robin Hood without the thievery," said McCay. "He always looked out for the underdog."
It was this generous attitude that allowed Wasserman to lend his skills to other areas.
For years, he volunteered at Lusher School, where he tutored fourth-graders in reading to prepare them for the Louisiana Educational Assessment Program test. All of his students passed.
Loyola recognized Wasserman's extraordinary gift for teaching when it awarded him the Dux Academicus award, the university's highest teaching honor, in 1995.
"Julian's greatest contribution to the Loyola community was his honesty and his moral leadership," McCay said. "What made him special was his willingness to listen to his students."