Students and faculty come together to honor Jon Altschul
Colleagues, students, family and friends gathered in Roussel Hall on Monday to reflect on the life and legacy of Jon Altschul, associate professor of philosophy, who died last week.
During the opening remarks, the Rev. Kevin Wildes, S.J., university president, said that Jon was a great grace to anyone who knew him.
"He was a grace we didn't earn or merit. We should take the time to be grateful for the time he spent in our lives," Wildes said.
Altschul began teaching at Loyola in 2009 after obtaining his doctorate in philosophy from from the University of California at Santa Barbara the same year. In his time at Loyola, he earned his tenure, became a member and then chairman of the faculty senate and started his own program, Philosopher Kids, which taught philosophy to children in nearby schools.
Kevin O'Sullivan, A'14, helped start Philosopher Kids with Altschul and is still involved with the program.
"He was excited and passionate about getting philosophy to children in an accessible way," O'Sullivan said. "He named it Philosopher Kids and this semester marks our second full year of the program."
To Jessica DeBold, A'14, Philosopher Kids was about more than teaching philosophy to children.
"It wasn't just for the kids, it was also for his students. He wanted us to learn how to affect children's lives. He hoped we could change the questions they asked and how they would come to question the world. He met with his students and alumni to prep for the classes, but also to have a meaningful relationship with us," DeBold said. "It really is amazing to think about how much he cared about us and this program."
The focus of his research was in the area of epistemology and philosophy of the mind. He also helped organize the Southern Epistemology Conference, held at Loyola last semester.
Bruce Bower, Tulane professor of philosophy, said he admired Altschul's career as a philosopher.
"He had tremendous intellectual rigor," Bower said. "It's a pity that he won't be able to talk about it anymore."
Altschul was elected as the Chairman of the faculty senate in 2014. Under his stewardship, the senate was involved in several important issues.
Maria Calzada, Dean of the College of Arts and Sciences, said Altschul's stewardship guided the senate through several important issues.
"His work in the faculty senate has been described as masterful. He was always well prepared, thoughtful and fair," Calzada said.
Mark Gossiaux, associate professor of philosophy, said at the memorial service that Altschul had a great way of talking to people.
"One of the things that I will always remember about Jon is that he was a great listener. When you talked to Jon, he would make you feel that you were important, that you had something of great value to say that he really wanted to understand. If only we could all listen to each other like that," Gossiaux said.
Fallon Chaisson, mass communication freshman, reflected on her time as one of his students.
"I was with him for a semester and a half, and the thing I remember about him, and thing that he taught me, was to never feel burdened by helping someone else, because it will pay off in the end," Chaisson said.
She also said that he would sometimes take the class outside during busy parts of the semester to take a break from philosophy.
"I think that he was more focused on making sure that yes, we knew philosophy, but also that we were growing as people, too," Chaisson said.
She also recalled times where Altschul involved students in the discussion of philosophy, while making sure that the discussion stayed friendly.
"When we began studying philosophy of religion, someone would start screaming about how God doesn't exist, and then someone would try to justify that he does. And right when the tension was about to reach its climax, he would step in and say, 'Okay, it doesn't really matter,' and just mellow everyone out, because what's the point of having college kids hate each other about it. And I think he was so worldly that he knew that, and just wanted to have a good time, and do his job and make everyone feel a little bit better."
Chaisson said that she thinks everyone who interacted with Altschul had similar memories.
"Everyone has said the same things about him, and that just shows how true it all is. There are no inconsistencies in what people say about him."
Constance Mui, chairwoman of the philosophy department, said Altschul was more than just a remarkable professor and colleague.
"Jon will be remembered as a gifted teacher, scholar and faculty leader," Mui said. "To many of us, he will be remembered as a loyal friend and the quintessential good guy."
About the Writer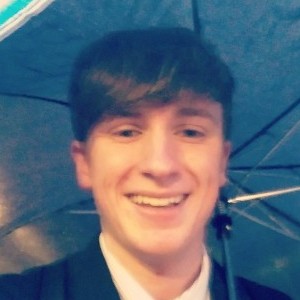 Gage Counts, Managing Editor for Electronic Properties
R. Gage is an economics junior and the Managing Editor for Electronic Properties. He was previously a guest columnist and the Opinion and Editorial Editor....