Editorial: Tulane admissions video whitewashes New Orleans
On Oct. 31, Tulane University published an admission video that immediately drew attention for its lack of diversity. The video features an almost entirely white cast, fronted by the Green Envy a cappella group.
The video amassed more than 1,000 Facebook shares within two days and garnered critical comments such as "Come to Tulane…the whitest place on earth" by Christopher Stoudt and "Clearly Tulane's dedication to increasing diversity only extends to what shade of kahki (sic) pants students are wearing" by Aimee Frank. Yet, infamous as the video has gotten in such a short span of time, students are all too familiar with "whitewashed" admissions videos when considering universities.
The video has brought attention to the racial makeup of Tulane's campus. The student body is 65 percent white, 10 percent students from other countries and 8 percent black, according to the most recent data from the Integrated Postsecondary Education Data System.
To that end, Tulane's video reflects the truth of its campus' racial makeup.
The question is, why isn't Tulane doing more to stress inclusivity? If you were a potential Tulane student of color, would you feel welcome or discouraged from applying because of this video?
The admissions ad not only emphasizes how white Tulane is, but whitewashes New Orleans, a city that is 60 percent black, with glamor shots of white Tulane students dancing in all the city's tourist spots. We understand that the video is marketed to out-of-state students, but it is important not to whitewash a city where gentrification is already a problem, simply to make it more appealing to wealthy white students.
What little diversity is actually displayed in the video falls prey to stereotyping minority students. Many of the featured black students are athletes, save for one who is wearing a Straight Outta Tulane tee shirt. The one Asian student in Green Envy first appears in a lab coat. These stereotypes can further isolate minorities on an overwhelmingly white campus.
These concerns, of course, aren't limited to Tulane. They extend to all of higher education, where colleges and universities are still working to eliminate racial disparities not only in enrollment but in their campus cultures.
This conversation even extends across West Road to our own 45 percent minority campus. We've taken steps toward making Loyola more hospitable to minorities and are in the process of hiring a permanent Chief Diversity Officer, but we have much more work to do. Even The Maroon has only had one black editor-in-chief in its 93 year history.
No campus is perfect, and neither is our country, but videos like Tulane's do more harm than good in terms of the struggle for racial equality. Let's celebrate our diversity and strive to do more, rather than being contented with racial homogeneity.
About the Writer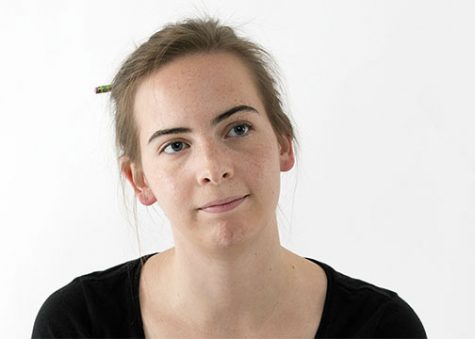 Colleen Dulle, Religion Editor
Colleen is a French and mass communication double-major with a concentration in journalism, minoring in Catholic studies and medieval studies.  Before...