Pets in dorm rooms comfort college students in New Orleans
Barks, panting and scampering paws have become common sounds in the residence halls at Loyola University and other New Orleans colleges despite longstanding rules against non-fish pets.
Dorms at Loyola are now home to six emotional support animals, which differ from service animals because the animals don't receive special training. Instead, they comfort students who need them.
Eric Aufderhar, a Loyola special needs counselor, said students can have support animals approved with a doctor's note.
"It needs to be explicit saying that the student or individual would benefit from an emotional support animal," Aufderhar said.
Tulane, Xavier, Dillard and the University of New Orleans have similar policies and rules.
Victoria Hedin, a Loyola mass communication freshman who keeps an emotional support dog named Paisley in her dorm, said it was easy to get a doctor's note because she suffers from anxiety and depression.
"It helps a lot, having that comfort," Hedin said. "She sleeps with me at night, and just knowing that she'll be there when I need her is really nice."
Hedin said that she adopted Paisley to comfort her as she got used to being far from her family who lives in Charlotte, North Carolina.
After talking to staff at the Office of Disability Services, students need to get permission from the Office of Residential Life. This step ensures that the animal is healthy and well-behaved. The office also gets approval from the student's roommate.
"I had to write out a very detailed list of care for Olivia," Loyola student Dejah Tanner said about her cat.
Aufderhar said that emotional support animals can serve a variety of needs.
"A lot of times, it's having something comforting, something living in the dorm that's not your roommate that can comfort you," Aufderhar said.
Tanner said that Olivia is very popular in the dorm.
"Everyone likes to come and play with her because they are like 'I'm very stressed,'" Tanner said. After getting her doctor's note approved, Tanner said she and her roommate went to straight to Petco to pick out Olivia.
Freshmen Skylar Arnold said all her friends come to play with her dog Blue.
"I think that's one of the best parts of having an emotional animal is that everybody loves your emotional animal." Arnold said. "It is great for socialization."
Christian Beshel contributed to this story.
About the Writer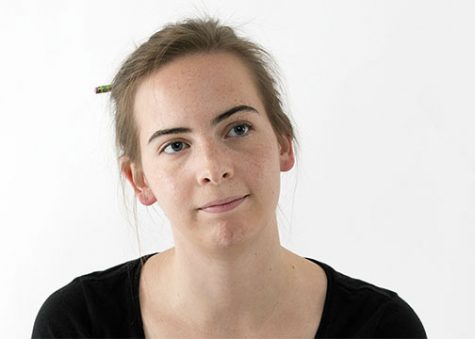 Colleen Dulle, Religion Editor
Colleen is a French and mass communication double-major with a concentration in journalism, minoring in Catholic studies and medieval studies.  Before...