Local literary festival returns for 32nd year
The iconic cry of "Stella!" echoed through Jackson Square on Sunday, March 25 in a fitting homage to Tennessee Williams on the final day of the 2018 Tennessee Williams/New Orleans Literary Festival.
All were welcome to express their admiration for the "A Streetcar Named Desire" playwright at the festival, which ran this year from March 21 to March 25.
For over 30 years, the Tennessee Williams/New Orleans Literary Festival has given attendees a sense of why Williams deemed New Orleans his spiritual home through nearly 100 events, including the Stella shouting contest.
John Biguenet, chairman of Loyola's English department, participated in numerous panels at the Tennessee Williams Literary Festival in past years, including one on playwriting.
"Young writers have the chance to make that kind of connections that allow them to begin to have their work in front of audiences," Biguenet said. "Another aspect to the event is making professional contact that leads to publication, so meeting writers and agents, or a producer."
Loyola's English department provided free tickets to students who wished to attend the festival.
Festival sites were all within walking distance from each other in the French Quarter. Events took place at historic sites such as Jackson Square and Le Petit Théâtre Du Vieux Carré.
A traveler by nature, Tennessee Williams always found his way back to New Orleans and had at least eight known residences in French Quarter neighborhoods. One of these residences was also a festival site, the Hotel Monteleone.
For those with a love for the author or an interest in the unique architecture of New Orleans, the Tennessee Williams Literary Walking Tour took guests through every hotel, home and apartment in which Williams was known to have stayed.
In addition to these events at the Tennessee Williams/New Orleans Literary Festival, the Saints and Sinners Literary Festival has accompanied Williams' festival since 2003.
Originally formed as a way to provide the New Orleans community with information about HIV/AIDS, the focus of Saints and Sinners now is to bring together creators and fans of LGBTQ literature.
Emerging authors or anyone interested in writing attended festival workshops that gave advice on everything from the makings of a great memoir to how to become a self-publisher.
Attendees were able to stop in to reading sessions which gave authors a platform to share a taste of their favorite works.
For those who enjoyed what they heard, almost all books featured in the readings as well as books on the life of Tennessee Williams and the city of New Orleans could be found in a pop-up bookstore stationed at the festival's headquarters, the Hotel Monteleone.
The Saints and Sinners offered a wide range of panels at the festival.
The Human Rights: The Struggle Continues panel brought together authors and activists for a discussion on how they view advancements in the struggle for human rights.
One panel speaker was Uriel Quesada, associate dean and professor for the College of Arts and Sciences. As an editor and the author of eight works of fiction, Quesada fit in among the other panelists and talents at the Saints and Sinners Festival.
"We are living in a world where human and civil rights are constantly questioned," Quesada said. "The panel offered different approaches to activism, from Latinx LGBTQ organizations to reflections on race and ethnic tensions in America."
By paying homage to the artists of the past and emphasizing the diversity of the present, both festivals celebrated the unique culture of New Orleans literature.
About the Contributor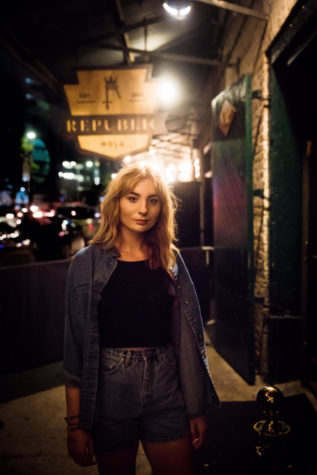 Catie Sanders, Life & Times Editor
Catie is a sophomore majoring in mass communication/journalism and a film studies minor. As the Life and Times editor, Catie aims to create a section that...