The Wolf horoscopes for the soul
Hang on for a minute...we're trying to find some more stories you might like.
Leo (July 22 – Aug. 23)
You may question your natural "joie de vivre" and self-confidence as you approach this new chapter in your life, don't. It's okay to shut out people if they are too much for you. Stay away from confining spaces, wet weather and embrace the Louisiana heat. Fish at your own risk.
Virgo (Aug. 23 – Sept. 23)
As you nest into this semester, be cautious. Immaterial consequences and rewards can be unsatisfying. Be realistic in approaching new commitments. It's okay to be utilitarian. Picnics, road trips and bird-watching should be on your horizon. Change isn't always good and remember the old saying "Patience is bitter, but the fruit is sweet."
Libra (Sept. 23 – Oct. 23)
Soar into the unknown! Every day is a chance to be and feel what you wish to feel and be. Don't see intimidation as a prompt for caution, see it as an invitation to push your limits. Grow, flaunt, tease and love. The status quo only exists as long as you accept it. Hydrate, stay away from open flames and, if it's safe, leave a window cracked.
Scorpio (Oct. 23 – Nov. 22)
Many forces might drive or limit you to narrow paths, and it can be difficult to see what whims are your own. Go with your own flow. You'll get to where you have to be and it'll take as long as it takes. Better to arrive to your destination ready than ill suited. You can easily be at peace, but your wrath and power is formidable. Beware your swells of anger. They will pass. Explore the bayou, visit abandoned forts but always be surefooted.
Sagittarius (Nov. 22 – Dec. 21)
You need to get your head out of your backside and face the music. You are only in your element when you return to being independent. Take aim and strike the bullseye, but you have to select your target first. It might feel just to embrace your sorrow, but until you realize your past is written and the future is not, others determine your fate. Take hold of your fate, or accept the fate of others. Avoid party games and group activities when possible. Focus on where you want your performance to be.
Capricorn (Dec. 21 – Jan. 20)
While it's okay to outshine your peers, remember that you must maintain their respect. When it comes to new friends this fall, you may have to take the first step. You're a good judge of character, but beware your blind spots; some berries, no matter how enticing to the eye, are poisonous. Suppress the need to splurge on luxuries and find other ways to treat yourself. Look into stone massages, camping and be careful around swamps.
Aquarius (Jan. 20 – Feb. 18)
You speak the truth, but many of those around you are either unready or unwilling to hear it. Don't let that affect your sense of self-respect. It's difficult for you to reconcile what you want for people and what they want for themselves. This is where reciprocation and consideration of others is important. Find the appropriate level of intimacy for all your relationships and know that the level can change from time to time. Also, be weary of things that seem too good to be true. Look into gardening, photography or landscaping. Invest in something important to you..
Pisces (Feb. 18 – March 20)
The world is your oyster, but remember to smell it first. Not every cape, coral reef and flooded cavern is a nurturing place for you to be. While some of us live and die swimming upstream, it is within your best interest to recognize when certain environments at school, work or home are unsustainable. But don't go searching the seven seas for another corner of the swamp. Sometimes what we're looking for is right in front of us. Google health code violations of restaurants before making plans. Popular opinion isn't always the wisest advice to head.
Aries (March 20 – April 20)
You may thrive in confrontation and conflict, but many people don't understand how inherently human that is. People see confrontation as unrefined and animalistic. The truth is people come in all shapes, sizes and sympathies. You're going to have to determine if the people you associate are worthy of your humanity. Confrontation, like sentiment, is very intimate. Look into martial arts and quidditch. Don't engage in political debates with strangers, acquaintances or philosophy majors. It might feel good, but it's a waste of time.
Taurus (April 20 – May 21)
Be cautious. Even in areas where you have great experience, mistakes can occur. There is no shame is error but you shouldn't be proud of consistent mediocrity. It's okay to take a step back and focus on yourself, even if it means postponing goals. Rebuild old relationships. Avoid zoos, card games and tight spaces with fragile dishware. Colorful adversaries that seem to be easy targets are just distractions.
Gemini (May 21 – June 21)
Engage in your life! Job offer? Take it. dinner plans? Join them. The library is cool but you thrive on personal interaction. You have to develop multiple different, positive relationship dynamics. Try providing an environment for others to engage with one another in. Throw a party, plan a picnic or start a bowling team. You'll meet someone special soon. Avoid slippery floors and large mirrors.
Cancer (June 21 – July 22)
Synergy between you and your family is important and, despite the awkwardness of that relationship, you can revaluate how you react to loved ones. Sometimes not everything is as bad as it seems to be and lashing out against those who care about you hurts you most in the end. Love those that you love, forgive them for their trespasses. Try deescalating situations before snapping. Acknowledge the limitations of lateral approaches and be direct. Avoid board games, especially Monopoly. You can find ways to love yourself without being shellfish.

About the Writer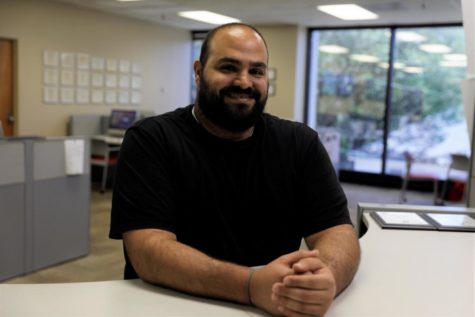 Osama Ayyad, Staff Writer
Previously, I have served as the senior staff photographer, and photo editor. I learned how to write stories and take photos during my time in the Army,...