Miss Congeniality: Loyola sister queens shine on stage and on campus
Hang on for a minute...we're trying to find some more stories you might like.
Beauty pageants have long been seen as a competition where women battle each other on the basis of vanity, but the Miss America "sister queens" of Loyola are breaking the stereotype of standing on stage and waving in perfect formation, and instead raking in enough academic success and service projects that would put Miss Congeniality to shame.
This past July, Tori Wilson, physics and mass communication senior, was crowned Miss Acadiana, and Alexis Horton, political science freshman, was crowned Miss Laffayette, putting them both in place to compete in the 2020 Miss Louisiana competition.
The girls call each other "sister queens," brought together by the world of Louisiana pageantry.
For Wilson, the pageant world seemed meant to be. It was her father who wanted her to participate in pageants, and in her first competition, during her freshman year of high school, she won best overall in Interview and First Runner Up.
"The pageant bug bit, because I've been hooked ever since," Wilson said.
After competing two years in high school, Wilson moved onto the Miss Arkansas Campaigning Team, and she was successful in winning the Outstanding Scholarship award for her scholastic achievement. However, her immediate success came to a halt when she moved to the Miss division, a branch of the Miss America organization, and didn't win or place for two years.
"It was kind of disheartening, not going to lie, but it taught me a lot about perseverance and how you have to keep working for the things you want," according to Wilson.
During her sophomore year, Wilson landed the title of Miss Spirit of the Red representing Shreveport, LA, and the next year earned a state level title after being named Miss Cane River representing Natchitoches, LA.
However, while Wilson was riding through the ups and downs of pageantry, Horton was struggling to express herself as an introverted teen.
She began entering dance competitions, but when a family friend mentioned she could win scholarship money from pageants, she changed gears.
Like Wilson, Horton entered her first pageant at 14 years old but only won the Fitness award. Yet, competing and watching other girls win titles created a motivation within that led her to love the pageant world. Since then, Horton has joined the Little Miss America organization, and has been able to participate in fashion shows, develop her own social impact initiative, gain job opportunities, receive training in public speaking and skills for the professional world and even earn $1,500 in scholarship funds.
Scholarship is at the forefront of Wilson's focus, too. As part of her pageant programming, she works with women in the STEM field, partners with foundations to raise money for the Children's Miracle Network Hospital, and has gained $5,000 in scholarship funding.
Most of her pageant obligations take place during the weekend, so Wilson finds time during the week to balance school work, an internship, a position on the Panhellenic executive board, a place in the honor's college, an internship and a physics and mass communication double major.
Wilson doesn't forget to credit the Miss America organization, as the scholarship program awards women funds to endorse the pursuit of their education.
"The pageant world wants you to be more than a pretty face with a crown on, but rather strong and educated women," said Wilson.
While only being a freshman, Horton is blazing ahead in her career and has her eyes set on the biggest job in the country: President of the United States. Horton credits pageants with giving her the confidence to someday go after The White House.
"Defending the organization is my priority, because the pageant world is not only about being beautiful, but more importantly focuses on service," said Horton.
And defending the organization is something both girls have had to do.
While being a pageant girl in her small Arkansas hometown felt like a celebrity status, moving to and meeting people in New Orleans made Wilson realize that pageants are not common in the city, she said.
"I have always been the type of person to just let stereotypes happen, and I have never felt the need to prove myself to anyone," Wilson said.
When the rumble of negativity starts, Wilson ignores everything and instead reminds herself of who she is and her successes, said Wilson.
Steering clear of negative comments is not unusual for Horton either, as she is aware of the connotations associated with the pageant world, and counters them by laughing with the crowd instead of crumbling under the backlash.
Not worrying about what people think is what led both girls to bask in the spotlight and opportunities of the pageant world. Wilson admires that she doesn't view a pageant crown as vanity, but rather a chance to open doors to her future. Carrying similar thoughts is Horton, whose favorite aspect of being a pageant girl is wearing gorgeous dresses and conducting speeches on social impact initiatives.
The dress is a symbol for a graceful figure, but the voice delivers a powerful impact that preaches positive changes for the future, according to Horton.
"I am still able to be a princess and a strong figure, and every single little girl and boy in the audience watching Miss America on TV can see that anything and everything is absolutely possible," Horton said.
About the Writer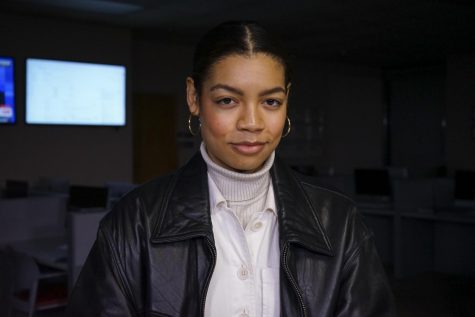 Erin Haynes, Assistant Life & Times Editor
Erin Haynes is the Assistant Life and Times editor, and is a mass communications major with a concentration in journalism and minoring in French. Other...