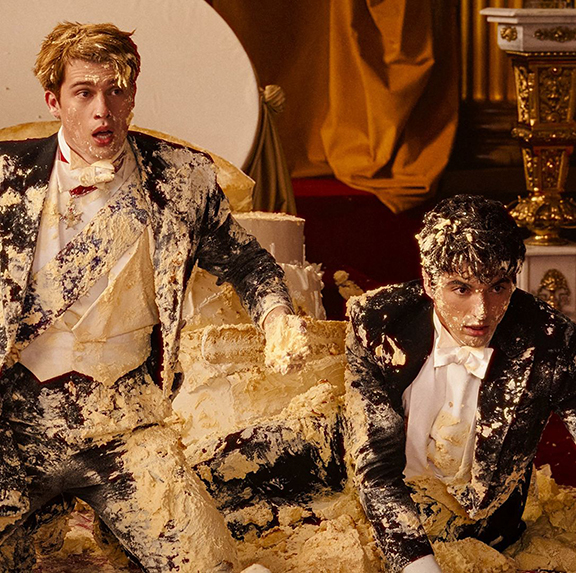 "Red, White & Royal Blue,"the new to Amazon Prime and based on the best-selling novel of the same name, is one of the few rom-coms in recent years that fully encapsulates everything that a rom-com should be. The leads are charming and lovable, the jokes are funny, and every second is overflowing with love and romance. However, does this mean that the film can be categorized as "good"? 
No, not really. But here's why that doesn't matter. The film follows Alex Claremont-Diaz, the son of the United States president, and Prince Henry, the grandson of the king of England, as they navigate a tumultuous friendship turned scandalous love affair. Because of their status as public figures, they must work to hide their budding romance from both their families and the world. 
Even with such an intriguing premise, the plot and its many characters do tend to feel a bit hollow. The two leads' acting styles are noticeably different, with Nicholas Galitzine (Henry) being more serious and dramatic, and Taylor Zakhar Perez (Alex) acting in a more cartoony, even cringe-worthy manner. Because "Red, White & Royal Blue" was originally a novel, even though I've never read it myself, it is painfully obvious that many plot lines and characters were either left underdeveloped or just left out completely. This makes the film feel weak, and it honestly made me want to check out the book to get the full story. 
By no definition is "Red, White & Royal Blue" a spectacular display of cinema and screenwriting, but despite its weaknesses, the film still manages to be a fairly good time. Of course, if you're a fan of the book, you probably won't be entirely happy with this adaptation. But I am simply a fan of rom-coms. And "Red, White & Royal Blue," by every definition, is a romantic comedy. 
When the first looks of the film were released online, many were quick to say that the two leads had little to no chemistry on screen. This, with the film being a romance and all, is extremely important. For me, there were several scenes throughout the film in which the chemistry between Alex and Henry is crystal clear. Their good-natured banter is natural, their pining is believable, and the romantic tension can't be missed. While other characters feel a bit undercooked, Alex and Henry feel fully realized and complete. And this is hugely important for a rom-com! If the audience isn't invested in the two leads falling in love, then there's no point to the film. And I fully believe that the Henry/Alex relationship makes up for the less than well-rounded supporting cast. Their actors put a lot of sincere heart into their performances and it pays off in a big way.
The many jokes throughout the film also consistently landed for me. Of course, comedy is subjective. But if you go into the film with low enough expectations, then I can assure you that you'll be thoroughly entertained. Most of the comedy falls into a "too bad to be legitimately funny, but so bad that it's actually hilarious" category, as well as some humor being found in scenes that obviously weren't meant to be humorous. And of course, this is all very important for a romantic comedy. And with both the romantic and comedic aspects of "Red, White & Royal Blue" working together to out shine its flaws, I can safely say that the film is quite enjoyable. 
If hard to hear "gen-z"-esque jokes and enough corny flirting to make you want to vomit sounds like a good time, then I highly recommend "Red, White & Royal Blue." The film certainly isn't perfect, but another cute, cheesy rom-com never hurt anyone. And although I hear it's a less than satisfactory adaptation, I hope that book fans can still find comfort in the fact that the film is undoubtedly charming, heartfelt, and fun. 
Rating: 6/10
"Red, White & Royal Blue" is now available on Prime Video.