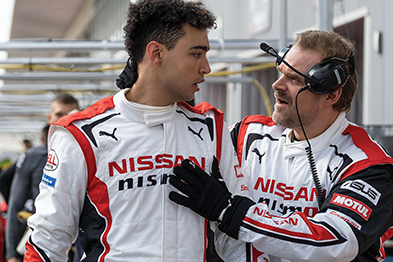 College student grinds on racing games and is offered the opportunity to race professionally in real life – films based on true stories rarely look like this, right?
While the writing may have been lackluster within the first 30 minutes, the intense nature of "Gran Turismo" will drive any person to see it through to the end. Will Jann gain a spot in the racing industry? Will he ever prove to his family that his dreams were worthwhile?Just a normal kid gaming in his bedroom, Jann is suddenly thrust into a world of power, nepotism and physical risk.

Stunt-wise, the film is what you'd expect from a racing movie – shots of the cars on the track, shots from the racer's point of view inside the car, etc.
However, a few shots throughout the film feature something different for a typical racing movie – a projected schematic of the car, its parts and how it is all put together. Every car that Jann is seen driving is shown in this way, and aids the audience in envisioning the structure of the car in the way that Jann does.
Nonetheless, the crash sequences are all incredibly detailed and intense (Fun fact: the stunt driver for Archie Madekwe–the actor portraying Jann–was none other than the real Jann Mardenborough himself!). This crash, which resulted in the death of an audience member, turns the whole story on its axis as Jann grapples with the guilt of these unfortunate circumstances. Jann's father continually made the point that racing was too dangerous for his son, and here we see how it is not only dangerous for his son Jann but for anyone involved.
Since Jann Mardenborough is a real person, we as an audience are capable of researching and finding out his outcome. Yet, this film draws us to follow Jann's experiences in his point of view as he applies them to his racing, through Archie Madekwe's portrayal.
Overall, this film makes a warm-hearted and thrilling watch for any age, and tells a motivational true story that anyone is capable of tackling their dreams with hard work and determination.
"Gran Turismo" is now playing in theaters.