Maroon staff, editors set the pace in St. Louis
Paper judged one of 20 best college newspapers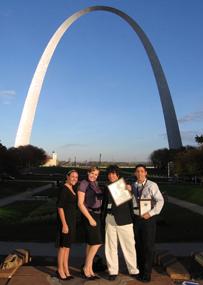 After a semester in exile, editors of The Maroon returned to Loyola last spring with their eyes on one prize: regrouping and covering post-Katrina Loyola as best they could.
Last Saturday in St. Louis they were honored with another prize when the Associated Collegiate Press presented the paper with the Pacemaker Award, the collegiate equivalent of the Pulitzer Prize.
"It's a real honor to be nominated and even more of an honor to win," said Editor in Chief Daniel Monteverde, mass communication junior. "We only had half a year to put out a paper, and last semester's staff was really dedicated to coming back strong and making sure we wrote a quality issue each week."
The paper was one of 20 college newspapers from across the country honored with the award. The Maroon was the only New Orleans college newspaper to be nominated. The LSU Daily Reveille was the only other Louisiana paper to be nominated.
Other papers that won the award were the Michigan State University State News and the Harvard Crimson.
Judges award the Pacemaker after evaluating papers on coverage and content, quality of writing and reporting, leadership on the opinion page, evidence of in-depth reporting, design, photography, art and graphics. The staff of the St. Louis Post-Dispatch judged this year's entries.
This is the fifth Pacemaker for The Maroon. The last time the paper was nominated was in 2000 when The Maroon Online was also nominated for a Pacemaker. The first Pacemaker was awarded to The Maroon in 1984.
The Associated Press has presented the award annually since 1927. In 1971 the Newspaper Association of America began cosponsoring the award.