'Pack slows down after historic start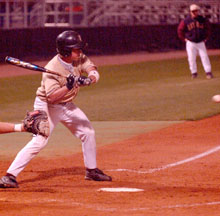 Tied 3-3 in the bottom of the eighth inning and staring down a season worst six-game losing streak, Loyola's baseball team turned to one of its senior leaders. And, as he's done all season, history major Brian McCaulley delivered.
McCaulley's two-run homer put Loyola up for good, beating LSU-Shreveport 5-3 in dramatic fashion. The team improved its record to 8-9 (1-5, GCAC) while avoiding a series sweep.
Loyola, down 3-0 going into the bottom of the 7th inning, found a spark when communications sophomore Andy Rodriguez led off with a single to start a three-run inning. History junior Trey Fury followed with a single, putting runners on first and second.
Management sophomore Todd Hubbell, who had just entered the game as a pinch hitter, put Loyola within reach with a double to left center. Rodriguez and Fury both scored to make it 3-2. Brian Mason, management junior, tied it up with a sacrifice fly to left center.
Sal Greco, history junior, kept the Pilots on the ground with a perfect 8th inning. McCaulley responded in the bottom half by hitting his first pitch out of the park to left center, scoring management senior David Lauricella. Greco pitched a scoreless ninth to earn his first win of the season.
The weekend didn't start out as bright for the 'Pack on Saturday as the Pilots handedly swept Loyola. The 'Pack fell in the first game 5-1, due in large part to lackluster defense that gave up four unearned runs on four errors. Starter James Blakeman (0-2), communications junior, got the loss, even though one of the five runs he gave up was earned. He threw 5.2 innings, striking out one and giving up eight hits.
The 'Pack's spirits continued to dim as Loyola fell 11-1 in the second game. Bobby Alvarez (1-1), communications sophomore, was tagged with the loss. Brett Mahoney, politics freshman, scored the lone run of the game. He was 1-for-3.
McCaulley, who leads the team in homers with four, has had a flair for the dramatic. His late inning theatrics Sunday afternoon made it the third time this season that he has hit a go- ahead or game-winning home run.
The 'Pack has a chance to even its record tonight night against Spring Hill. First pitch is scheduled for 6 p.m.